Auto Earnings Likely to Be 'Ugly' as China, Europe Slow Down
(Bloomberg) -- The third-quarter earnings season is looking to be a tough one for carmakers.
Amid flagging demand in China, a slowdown in Europe triggered by new industry regulations, rising commodity costs and the uncertainties injected by trade wars, automakers and auto suppliers are expected to put up a poor showing.
"It's gonna be ugly," RBC Capital Markets analyst Joseph Spak wrote in a note, adding that he expected "a number of third-quarter misses and 2018 guide-downs."
Expectations for Ford Motor Co. are especially tenuous, after the company earlier this week warned of soaring steel prices. "Given recent announcements regarding restructuring and cost savings along with moderating vehicle demand, higher raw material costs, slew of auto related earnings pre-announcements from other companies and higher interest rates, we believe management is likely to guide down earnings per share and cash flow for 2018," Buckingham Research analyst Joseph Amaturo wrote in a note.
The company lowered its expectations for 2018 earnings to a range of $1.30 to $1.50 in July, and analysts on average now expect an annual profit of $1.31 per share, according to data compiled by Bloomberg.
Here's what analysts and investors will be watching when Ford reports third-quarter results on Wednesday after the market close, with General Motors Co. reporting on October 31.
Expectations are low, with consensus profit estimates for both GM and Ford revised significantly lower over the past six months, as concerns about rising commodity costs and tariffs continued to cast a pall over the sector.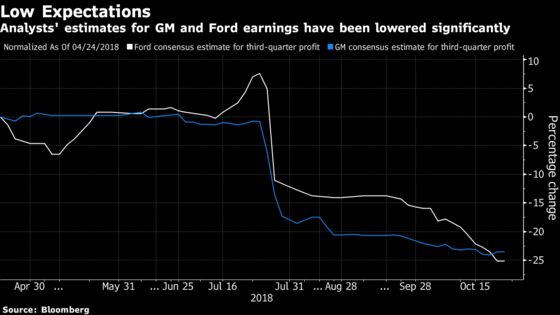 The third quarter feels like the worst quarter in recent history with a toxic mix of rising trade barriers, emerging markets foreign exchange, production cuts and EU pre-registrations, Jefferies analyst Philippe Houchois wrote in a note, discussing the broader auto sector. "Results should range from uninspiring to disappointing but possibly mark a low point for production," Houchois added.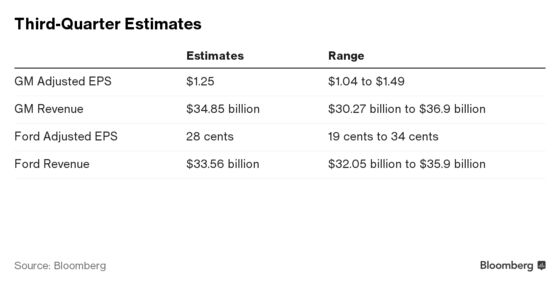 Production and demand trends in the two key international auto markets have been concerning investors, who will be looking out for further detail.
According to RBC's Spak, production in both the markets trended negative during the quarter -- due to WLTP regulations in Europe and slowing demand in China -- and in many cases foreign exchange was also worse than planned.
WLTP, or the Worldwide Harmonised Light Vehicle Test Procedure was implemented early last month, is a set of regulations and testing procedures under EU law for estimating fuel efficiency and exhaust emissions. Analysts had warned that the new rules could significantly disrupt production and supply of vehicles, hurting retail sales.
Ford's third-quarter China volume appeared to be down nearly 40 percent year over year, Morgan Stanley analyst Adam Jonas wrote in a note, and who now assumes Ford China JV affiliate income to be negative in the second half of 2018 and in 2019.
Last week, JPMorgan Chase & Co. analysts led by Ryan Brinkman also flagged Ford as among several automakers worst hit by the production slowdown in China.
Commodity costs have returned to the headlines after Ford's scathing commentary earlier this week criticizing Donald Trump's tariffs and the resulting steel prices, while industrial manufacturing behemoths Caterpillar Inc. and 3M also warned about rising raw material costs.
Ford CEO Jim Hackett last month urged the U.S. administration to quickly resolve trade disputes, and said the company already sustained a roughly $1 billion hit to profit despite sourcing most of its metals from the U.S. RBC's Spak said the headwind likely implied a $500 million incremental gross headwind in 2019.
Analysts will be looking for more detail on the rising cost from both GM and Ford, as well as other carmakers and suppliers this quarter.
After Ford canceled its September analyst day, the market has been waiting to hear more detail about the company's turnaround plan, a common point of frustration with analysts' covering the stock.
"While we see scope for potentially tens of thousands of headcount reductions at Ford, we are increasingly concerned that the capital markets do not have confidence in Ford to take decisive action fast enough," Morgan Stanley's Jonas said.
"Part of the problem is that management has chosen not to provide a roadmap of how the $11 billion can be spent. We believe investors will pay for details and execution, which we don't see evidence of currently."
3Q adjusted EPS estimate 28c (range 19c to 34c)
3Q automotive revenue estimate $33.56 billion (range $32.05 billion to $35.90 billion)
FY adjusted EPS estimate $1.31 (range $1.18 to $1.41)
Ford 4 buys, 18 holds, 2 sells; avg PT $10: Bloomberg data
Implied 1-day share move following earnings: 6.1%
Shares fell after 9 of prior 12 earnings announcements
Adjusted EPS beat estimates in 7 of past 12 quarters
Earnings 4:15pm, Oct. 24
Call 5:30pm, 877.870.8664 password: Ford Earnings
3Q adjusted EPS estimate $1.25 (range $1.04 to $1.49)
3Q net sales and rev. estimate $34.85 billion (range $30.27 billion to $36.90 billion)
FY adjusted EPS estimate $5.87 (range $5.13 to $6.10)
GM 14 buys, 9 holds, 1 sell; avg PT $45: Bloomberg data
Implied 1-day share move following earnings: 5.2%
Shares rose after 7 of prior 12 earnings announcements
Adjusted EPS beat estimates in 12 of past 12 quarters
Earnings 7:30am Oct. 31
Call 9am, 888-808-8618