Australian Stocks Are World's Best Performers Despite Bushfires
Less than a month into 2020, Australia is the world's top stock market as low rates and trade optimism offset concerns about earnings and wildfires that have burnt an area almost the size of England.
The S&P/ASX 200 index has jumped 5.4% this year, besting all equity benchmarks in the developed world, according to data compiled by Bloomberg. Optimism over the U.S.-China trade deal, coupled with lower-for-longer interest rates and the potential for further cuts are helping the gauge extend gains following 2019's best-in-a-decade surge.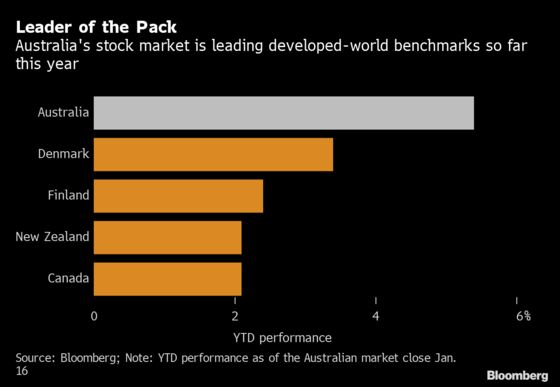 The benchmark closed at a record high for the third consecutive session Thursday and finished above the 7,000 level for the first time. The strong performance is making consumers more positive -- they contributed to a boost in confidence data earlier this week, according to a note from Craig James, chief economist at Commonwealth Bank of Australia's securities unit.
"A market at all-time highs is as bullish as you can get," said Chris Weston, head of research at Pepperstone Group Ltd. in a note to clients. "To promote a decent move to lower, and not just a synchronized wave of profit-taking, we are going to need to see news that is not yet known."
At the same time, there are plenty of red flags that could crimp the market's performance. Australia is forecast to post the worst profit growth in Asia this year as the economy is expected to be further weighed down by the impact of wildfires and the banking sector grapples with a laundry list of scandals.
Australian stocks are also at their most expensive. Shares are heading into the February reporting season trading at a 12-month forward price-to-earnings ratio of 18.3x, leaving investors with little tolerance for earnings misses or downgrades.