Australian Pension Giant Will Cut Exposure to Stocks
(Bloomberg) -- Australia's largest pension fund says it will cut exposure to equities as the current global growth cycle gets closer to ending and escalating trade tensions weigh on the economy.
Returns from equities will be limited by the Federal Reserve continuing to tighten policy and a persistence of trade war concerns, according to Mark Delaney, AustralianSuper Pty.'s chief investment officer. The money manager that oversees A$140 billion ($104 billion) will cut its allocation to shares to about 55 percent from about 62 percent during the coming 12 months, moving more money into fixed income and cash, he said.
"We're much closer to the end of the cycle, and that will dictate a much lower equities exposure," Delaney said by phone from Melbourne on Wednesday. "If the Fed tightens more quickly than anticipated, we may reach that target in a shorter time. If the Fed tightens as planned and global trade tensions ease, then we might stay in equities a bit longer."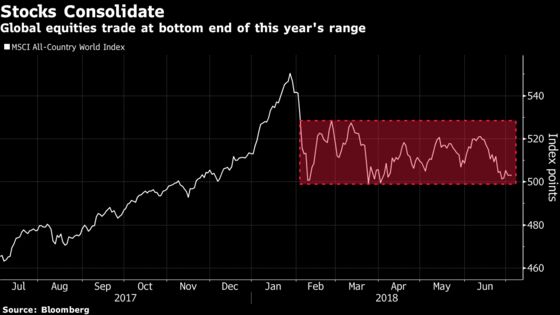 While AustralianSuper joins other large global investors in reducing its tilt toward risk assets, the firm still aims to keep more than half of its total assets in stocks. Fidelity International turned neutral on equities from overweight last month and Goldman Sachs Asset Management said it's growing more cautious amid tensions between the world's two largest economies.
President Donald Trump is serious about renegotiating trade agreements, moving to more bilateral deals and tariffs will be a big part of those negotiations, Delaney said. The trade tensions have already impacted emerging-market economies in recent months and that may worsen if the situation deteriorates, he said.
"The U.S. aspiration to have a better deal on trade is very real and it is not something the country or the president is going to walk away from," Delaney said. "If other countries retaliate and erect trade barriers, it will have a very material effect on global economic activity."
The pension fund had been buying stocks over the past 18 months and had sold out of most of its fixed-interest holdings early last year due to the risk of rising interest rates, Delaney said in May. While the fund plans to move investments out of equities and into Treasuries, the current yield of 2.8 percent on 10-year bonds was "not the level" to be making that move yet, he said.
AustralianSuper has already cut exposure to unlisted and credit assets to about 20 percent over the past 18 months from about 30 percent, Delaney said. The Balanced Option fund returned 11.1 percent in the year to June 30 and delivered a 9.3 percent return each year for the past three years, it said.
As at June 30, AustralianSuper's balanced fund had the following asset allocation:
International equities, 37%
Australian equities, 25%
Infrastructure, 11%
Property, 7%
Cash, 8%
The remaining 12% is invested across high-yield credit, private equity and fixed income