Australia's Biggest Pension Fund Eyes PE, Credit Amid Low Rates
(Bloomberg) -- AustralianSuper, the nation's largest pension fund, is seeking private-equity opportunities and looking to lift credit holdings as it sees limited returns from government bonds.
The fund is holding more cash than it would traditionally, Mark Delaney, the chief investment officer of Melbourne-based AustralianSuper, told Bloomberg's Inside Track series Tuesday. It is underweight government bonds and maintained its long-term weightings in equities during the market turbulence amid the coronavirus pandemic, Delaney said.
"If we get a chance and the markets pull back substantially we'll look to deploy some of that cash, otherwise we'll look to start dribbling money into aspects like credit and hopefully really good unlisted opportunities," he said.
The superannuation fund that manages A$165 billion ($115 billion) of retirement savings for more than 2.1 million workers needed to move away from relying on fixed income to diversify given that rates are close to zero, Delaney said. It may boost foreign-currency holdings, employ synthetic strategies such as options and consider unlisted investments, he said.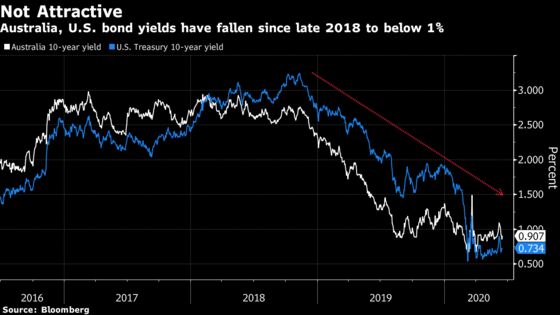 Despite the dire economic data at the moment, Delaney said he was more confident about the economic outlook in 2021. There would be pressure on government bond yields to rise if a recovery took hold, he said.
"The underlying running yields are still very low now and the prospect of capital gains from here is quite limited unless there was a renewed, substantial economic downturn," he said.
AustralianSuper wants to ramp up private-equity investments both in Australia and overseas, Delaney said. It's looking to do that through co-investments and co-sponsorships -- where it gets in on a deal at the early stages -- as well as taking underlying management exposure, he said.
"We've got an aspiration to grow our private-equity exposure," he said. "We look to do that carefully as the market opportunities emerge and we can find good quality deals."