Australia Pensions Bet on Venture Capital in Record Raising Year
(Bloomberg) -- Australia's biggest pension funds are betting the nation's first recession in about three decades will produce its next tech-unicorns, fueling a record year of venture capital fund raising.
AustralianSuper Pty. and Host-Plus Pty. were among investors backing Square Peg Capital Pty.'s $450 million fund, the venture capital firm said Tuesday. The Melbourne-based firm's fourth fund adds to the best year for the Australian venture sector that's raised at least A$1.3 billion ($980 million) in 2020, according to data compiled by Preqin and Bloomberg.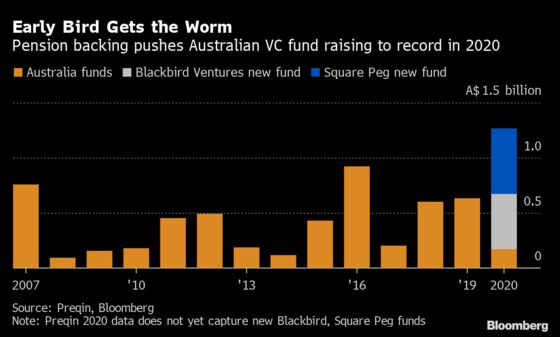 Funds managing Australia's A$2.9 trillion in retirement savings are embracing the sector as they diversify investments to generate higher returns. As industries from health care to education get "re-imagined" from the pandemic, a boom in tech investing akin to the mid-1990s is looming, Square Peg co-founder Paul Bassat said in an interview.
"That was the best period for VC returns for the last 60-years," said Bassat, who co-founded A$9.4 billion Seek Ltd. in that era. "The next two or three years are going to be the next best period for technology investing."
Square Peg's raise signals investors still favor Australia's venture capital industry despite fears investment would slow amid the coronavirus-induced recession. Blackbird Ventures raised A$500 million from funds including Aware Super and the nation's sovereign wealth fund in August, adding to the flood of bets on early-stage companies in Australia in the past three years.
It's a boon for local startups too. Deal size is increasing as the some A$3.6 billion raised by local VC funds the past five years enables them to back tech unicorns through late stage funding rounds. Previously, funds like Square Peg were limited to early stage seed and series A rounds before startups sought U.S. venture firms, Bassat said.
"The worst thing is having to stand on the sidelines because you've run out of money," he said.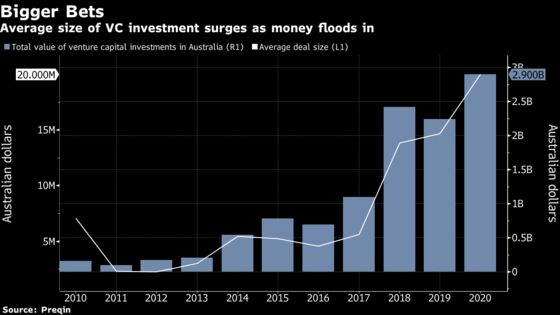 Melbourne-based Square Peg, with $1 billion under management, is looking to back early-stage businesses tapping the massive changes brought on by Covid-19. The fund, created in 2012, is targeting companies in Australia as well as Israel and Southeast Asia and has backed tech-unicorns including Canva Pty. and cross-border financing firm Airwallex Pty.
It's also on a hiring spree, looking for as many as four people for its investment team next year. Six of the fund's 14-strong investment team were hired in 2020, with specialties in education, fintech and blockchain, including former Stripe Inc. executive Piruze Sabuncu as its first female investing partner, Bassat said.
To be sure, it won't make the fund's job any easier.
Expectations for returns are even greater after $400 million was returned to its clients this year, the bulk of which was from its first fund in 2012 at about three times their initial investment, Bassat said.
"We have to work way, way harder in the next few years to achieve those same results," he said.