Sydney in Two-Week Lockdown as Delta Variant Infections Rise
(Bloomberg) -- Greater Sydney was put into a two-week lockdown to fight an outbreak of the highly-transmissible delta variant of the coronavirus, straining Australia's so-called "Covid-zero" strategy as vaccinations lag behind other developed nations.
Residents can only go out for reasons such as food shopping, medical care or essential work and education that can't be done from their own homes, New South Wales state Premier Gladys Berejiklian said on Saturday. The decision followed the detection of a dozen more new local infections and increased exposure sites that are complicating contact tracing. The curbs will apply until July 9.
"Even though we don't want to impose burdens unless we absolutely have to, unfortunately, this is a situation where we absolutely have to," Berejiklian said at a press briefing, adding there was no need for people to panic-buy goods.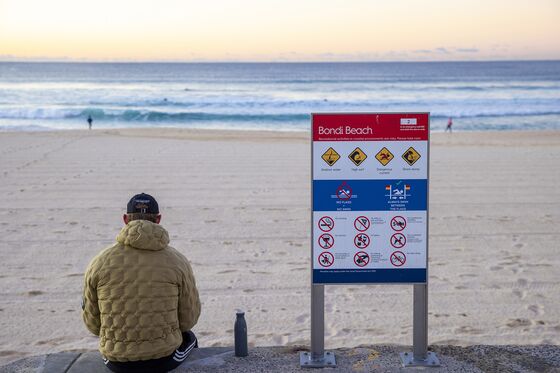 Places such as Australia and Hong Kong that initially won plaudits for strict border controls and ring-fencing of infections are now coming under criticism for slow vaccine roll-outs compared with the U.S., U.K. and parts of Europe, which are starting to open up. Breakouts due to more virulent strains threaten to disrupt efforts to spur the economic revival from the pandemic.
New Zealand on Saturday announced a halt in quarantine-free travel from all of Australia until June 29, widening the suspension from New South Wales earlier. The decision will be reviewed on Monday.
"This short pause will give us time to get a better understanding of the developing situation and to consider the potential implementation of a range of measures to make the bubble safer," the New Zealand government said in a statement. "We remain committed to Quarantine Free Travel with Australia."
Doses administered so far in Australia are only enough to cover 14% of the population, compared with 50% in the U.S. and 57% in the U.K., according to Bloomberg's Covid-19 Vaccine Tracker.
"The concerns we have at the moment are extremely high," New South Wales Health Minister Brad Hazzard said at the same briefing.
Officials had earlier imposed stay-at-home orders in portions of the city, but the new restrictions now affect more than 5 million people. Masks will be compulsory indoors in non-residential settings -- including workplaces -- and at organized outdoor events. Household visitors are limited to five guests, while outdoor exercise in groups of 10 or less is permitted.
Berejiklian said officials would re-evaluate the situation after seven days if there was a dramatic improvement. Australia's Prime Minister Scott Morrison said the move to impose the lockdown was a necessary decision.
The Australian Retailers Association estimated the two weeks of restrictions would lead to A$2 billion ($1.5 billion) in lost retail trade, adding the vaccine rollout is critical to averting a repeat.
The focus next week will turn to the financial-market reaction to the lockdown. Australian shares and the currency have been largely resilient to flareups and movement curbs this year. The S&P/ASX 200 index is up almost 11% in 2021 as loose monetary and fiscal policy supported economic growth. The Aussie has weakened about 1.4% over the period against the U.S. currency.