Australian Commodities Are Tipped for a $122 Billion Rebound
(Bloomberg) -- Stronger prices, a brighter longer-term demand outlook and the rise of battery metals are laying the ground for a potential revival in mining and energy projects in Australia, according to the world's top exporter of iron ore, alumina and coking coal.
The value of so-called committed projects -- as well as those likely or possible to progress -- are forecast to rally to as much as to A$122 billion ($87 billion) by 2021 due to a pipeline of new initiatives, after bottoming this year at about A$40 billion, according to the Department of Industry, Innovation and Science.
"Prospective resource investment is starting to recover again," Mark Cully, the department's chief economist, said Friday in a report. "Investment is being helped along by the relatively low Australian dollar and by new growth markets in renewable energy and electric vehicles."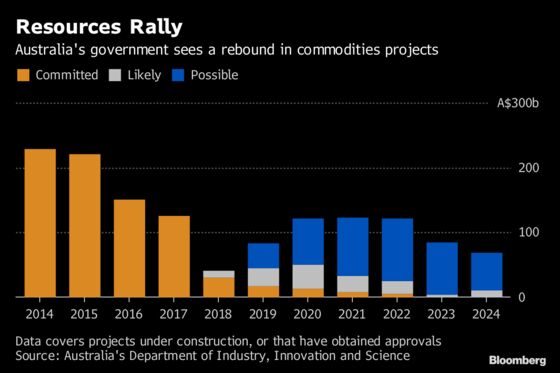 The value of resources projects that are underway has plunged in 2018 as work has been completed on a series of giant liquefied natural gas assets, including Inpex Corp.'s $40 billion Ichthys operation. A slew of fresh projects at earlier stages of development will eventually trigger a rebound in spending, though it's still unlikely to match the sector's investment boom earlier this decade, which peaked in 2012 with committed projects of A$268 billion, the report said.
BHP Group and Rio Tinto Group, the world's two largest miners, along with Fortescue Metals Group Ltd. have this year approved the development of new iron ore operations in Western Australia, aimed at sustaining their output as older assets are retired.
Mine developments focused on raw materials for electric vehicle batteries, or other niche minerals, account for about a third of all projects currently listed in a study phase, the report said. Kidman Resources Ltd., a lithium developer with pacts to supply customers including Tesla Inc., is seeking debt funding in the next six months to finalize plans for a $737 million joint venture project, Chief Executive Officer Martin Donohue said Wednesday in an interview.
"The upswing will not be comparable to the boom of last decade, but will take a different shape, sweeping up commodities like lithium in a new investment cycle," the industry department said in a statement.
Australia's government is seeking to woo foreign and domestic investors to back new developments that would help buttress growth, particularly as the nation's housing sector weakens, Minister for Resources and Northern Australia Matt Canavan said last week.
"Conditions in the property market are softening," Canavan said in a Melbourne speech. "We should again focus on ensuring that we can attract mining investment in response, especially given the buoyant state of many commodity markets."