Treasuries Lead Global Bond Rally With Rate-Cut Bets Mounting
(Bloomberg) -- Treasuries gained for a sixth day, leading a bond rally from Australia to Japan as investors increasingly bet on central banks easing to cope with the global impact of the coronavirus outbreak.
Yields on 10-year Treasuries sank five basis points to a new record low of 1.282% on Thursday after the U.S. warned of the possibility that the virus is circulating in the nation, while infection counts mounted in Europe and Asia. Australia's benchmark yield also fell to a record 0.84%.
"Bond yields can fall to as low as they want until central banks ultimately meet the market's demands -- and that is for more rate cuts, especially from the Fed," said Chris Weston, head of research at Pepperstone Group in Melbourne, Australia. "Markets are really struggling to count the future economic damage from the virus and we're seeing this huge re-allocation of capital to safety."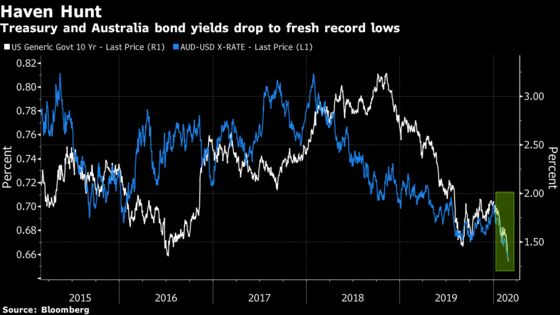 Investors are pricing in a Federal Reserve easing in April followed by another full rate cut in July, swaps data show, while bets for easing from Japan to Australia have also increased after the International Monetary Fund cut global growth forecasts.
The drop in yields reflected an anxiety in markets as American health authorities said they've identified the first case of an infected person with no known links to an existing outbreak. Cases in South Korea skyrocketed past 1,000 this week, while countries from Italy to Spain have reported more patients.
Japanese funds are likely exacerbating the decline in yields during Asian trading hours as a rush to havens gathers pace, said Naoya Oshikubo, a senior economist at Sumitomo Mitsui Trust Asset Management.
"Japanese funds including pension funds are likely buying U.S. Treasuries without currency hedges, pushing down yields during Asian hours," he said. "The drop in U.S. yields comes amid speculation that the probability for the Fed to cut rates is high."
Yields fell as much as six basis points across the U.S. curve. Japan's 10-year bond also declined 1.5 basis points to minus 0.11%, while in New Zealand, it fell 7 basis points.
Bank of America Merrill Lynch said the 10-year Treasury yield could slip to 1.25%, while ING sees 1% as the outlook for economic growth grows grimmer by the day.
The International Monetary Fund said last week that it was looking at "more dire scenarios" where the spread of the virus continues for longer than expected.
The Australian government on Thursday activated an emergency plan to deal with the coronavirus outbreak, with the prime minister extending a travel ban on people coming from mainland China.
Money markets are pricing in a 25 basis point interest-rate cut from the Reserve Bank of Australia in July, taking borrowing costs to a record low 0.50%. Yields on Australia's three-year government debt declined 5 basis points to 0.56%.
"The fall in the bond yields corresponds with the rise in the RBA rate cut expectations and weak risk sentiment of late," said Fiona Lim, senior foreign-exchange strategist at Malayan Banking Bhd in Singapore. "Border restrictions do not help in the least and investors are probably bracing for ugly data out of China due as soon as this weekend."