Australian Dollar May Be En Route to 70 Cents
(Bloomberg) -- Australia's dollar is seen dropping to a more than two-year low of 70 U.S. cents as infighting in the ruling party threatens to create policy paralysis.
The Aussie tumbled as much as 1.5 percent Thursday as Prime Minister Malcolm Turnbull fought to stave off a challenge from the conservative wing of his own party. The fate of Turnbull, already the nation's sixth leader since 2007, will probably be decided within hours as rivals seek enough signatures to force a vote on his leadership.
"What we're seeing in the forex markets reflects a crisis of confidence in the ability of Australia's political class to deliver sensible economic outcomes that ensure our future prosperity," said Stephen Miller, an adviser at Grant Samuel Funds Management and former head of fixed income at BlackRock Investment Management Australia. "I can see the Aussie testing 70 U.S. cents at some stage before year's end."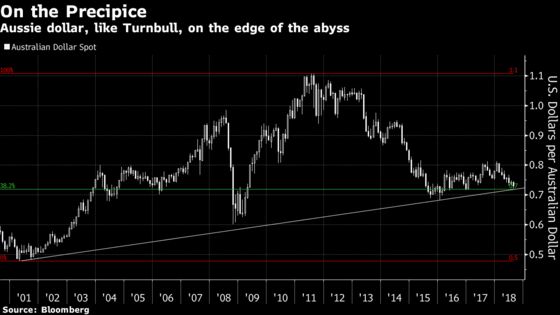 Australia's dollar has weakened more than 10 percent from this year's high of 81.36 cents in January to trade at 72.54 cents as of 10:57 a.m. in Sydney on Friday. The currency was last below 70 cents in early 2016.
Miller is voicing the view of a growing pool of money managers who are becoming increasingly bearish on the Aussie as a power struggle once again disrupts the process of government. The currency was already under pressure due to the trade dispute between Australia's largest trading partner China and the U.S., and a widening interest-rate differential in favor of the greenback.
Turnbull, who himself overthrew former Prime Minister Tony Abbott in 2015, said he would call a special meeting of the governing Liberal Party at noon on Friday if Dutton can gather enough signatures on a petition. If lawmakers hold a leadership vote, which would be the second this week, Turnbull said he wouldn't stand.
The Aussie will probably decline to around 71.25 cents as the crisis worsens and other macro factors weigh in, said Chris Manuell, a portfolio manager at Jamieson Coote Bonds in Melbourne. "We would anticipate one last leg lower into that region and be alert for a tradeable bounce around that area."
The Aussie is taking the brunt of the political mayhem that makes Italian politics look almost sedate, he said.
Not every asset manager is bearish. The Aussie is trading at fair value and will probably stay above 70 cents, said Raymond Lee, a money manager and managing director at Kapstream Capital in Sydney.
"We're not shorting the Aussie at the moment," he said. "It's difficult to trade around political news in the short term. I think this will be short-term noise."
Australia's currency is likely to stay under pressure until there's some clarity on new leadership or a date for the next election, said Kerry Craig, a global market strategist at J.P. Morgan Asset Management in Melbourne.
"Markets hate uncertainty, but that's what we've got, the currency is likely to feel the pressure the most," he said.