Fresh Losses Coming for Australian Dollar, Strategists Say
(Bloomberg) -- The Australian dollar will continue to fall as the nation's central bank cuts interest rates further to stimulate the faltering economy, according to market participants.
The Aussie fluctuated around 69.80 U.S. cents Tuesday after the Reserve Bank of Australia lowered borrowing costs to a fresh record of 1.25%, with initial gains quickly paring. The quarter-point cut may not be enough, say strategists from DBS Bank Ltd. to Rabobank who see the currency remaining under pressure from worsening unemployment, a real-estate downturn and the ongoing U.S.-China trade war.
"The Aussie being closer to the mid-60 range versus the dollar is not unthinkable by year end," said Kerry Craig, global market strategist at JPMorgan Asset Management, who expects another cut in August. "The talk has shifted not to today's move but what may come later in the year or next and just how far the RBA is willing to go."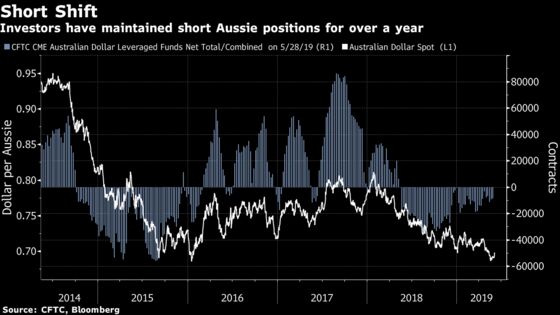 Australia's currency has weakened about 1% against the dollar this year on a slowing domestic economy and an escalation in trade tensions between the U.S. and China, the country's biggest trading partner. Option traders are more bearish on the Aussie than any other G-10 currency, and investors are pricing around a 90% chance the RBA will cut interest rates again in September, overnight index swaps show.
The first cut to Australia's cash rate since August 2016 will help "assist with faster progress in reducing unemployment and achieve more assured progress towards the inflation target," Governor Philip Lowe said in his post-meeting statement. He did not provide any new forward guidance.
"It is very rare that you get a one and done interest rate cut ," said Kyle Rodda, analyst at IG Markets Ltd. in Melbourne. "I see the Aussie grinding lower to the middle of the 60 U.S. cents level potentially by year-end as data deteriorates."
Rabobank reckons there are "lots more rate cuts to come," which will place the Aussie under renewed selling pressure, senior strategist Michael Every wrote in a note. And while the Aussie has enjoyed a bounce against the greenback in the past few weeks, rising unemployment, trade tensions and subdued consumer spending will continue to weigh on the currency, according to DBS Bank Ltd.
"With CPI inflation well below its 2% target with no signs of picking up, the RBA will probably keep the door open for another rate cut," DBS strategists including Philip Wee and Eugene Leow wrote in a note. "The latest recovery in the Aussie presents an opportunity to re-establish those short positions."