August Has a History of Crushing Dreams for Stock-Market Bulls
(Bloomberg) -- August has a history of quashing investors' illusions of a quiet summer. And there's enough risk hanging around this month for it to happen again.
The long list of concerns weighing on markets -- from trade wars to Brexit -- got longer in the past week with the political spat between Canada and Saudi Arabia, new U.S. sanctions planned for Russia and the rout in Turkish assets. While these have been mostly shrugged off by U.S. investors, they could leave global assets in a precarious position amid the usual summer downturn in liquidity.
"This confluence of events comes in a month that has historically proved one of the more dangerous since 1970," Simon Derrick, Bank of New York Mellon Corp.'s chief currency strategist, wrote in a note Thursday. He pointed to data showing that August has accounted for seven of the 50 sharpest monthly drops in the Dow Jones Industrial Average during that span, with an average decline for these months of 8.9 percent.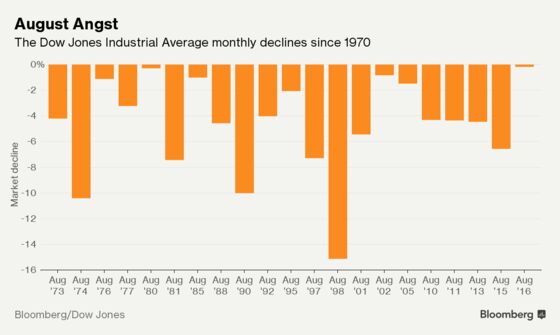 August was the second-worst month for the Dow Jones Industrial Average last year, even as it eked out a small gain. The gauge slipped in August 2016 and fell more than 6.5 percent in August 2015 after China devalued its currency. The worst drop during that month was a 15 percent plunge in 1998 amid the Russian banking crisis.