Athenahealth Sale Is as Good as It's Going to Get
(Bloomberg Opinion) -- Athenahealth Inc.'s sale plan is the best outcome for a messy situation.
The health-care technology company announced on Monday that it was selling itself for $135 a share, or about $5.7 billion, to private equity firm Veritas Capital and Evergreen Coast Capital, the buyout arm of activist investor Elliott Management Corp. The deal caps a process kicked off in May when Elliott made a bid for the company while criticizing a string of missed financial targets and an uninspiring push for margin improvements. The ensuing months have been riddled with news leaks — some more accurate than others — and a fair share of drama, including the ouster of Athenahealth CEO Jonathan Bush, who stepped down in June after allegations of inappropriate behavior toward female employees and physical abuse of his ex-wife came to light.
The $135-per-share price tag is a discount to the $160 a share Elliott offered in May. At the time, that bid was interpreted as a potential floor, with analysts speculating strategic or other financial suitors could top it. But Athenahealth's results over the past few quarters have been disappointing, with bookings declining about 5 percent in the most recent period after adjusting for a charge-back from 2016. The weaker market outlook likely forced financial buyers to be more conservative in calculating their rate-of-return thresholds.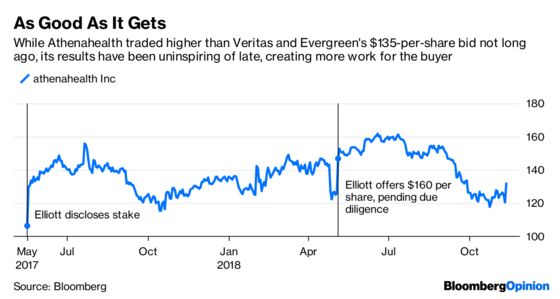 At the same time, it would have been worse for Athenahealth to continue on as a public company. While the high-profile process can be blamed for part of the slowdown in new orders, Athenahealth also needs to give more attention to investing in new sources of growth as demand wanes for some of its core product offerings. And it needs to do that while also keeping a tighter grip on costs. Absent a deal, Robert W. Baird analyst Matthew Gillmor estimated Athenahealth shares would trade for less than $100, at least temporarily.  
It's helpful that Veritas is more than just a financial bidder; it plans to merge Athenahealth with the health-care IT assets it acquired earlier this year from General Electric Co. This structure will allow the combined company to consolidate some functions and operations, opening up more opportunities for cost cuts while also giving both businesses greater flexibility to invest in R&D and innovation.  
Notably, Elliott's Evergreen Coast Capital will retain only a minority interest in the combination of Athenahealth and those GE assets (now dubbed Virence), which is a big adjustment from its earlier bid. The press release notes that the takeover price is a 27 percent premium to Athenahealth's closing price on May 17, 2017, the day prior to Elliott's initial disclosure of a roughly 9 percent stake in the company. A Bloomberg Opinion analysis of Elliott's 13D regulatory filings on Athenahealth suggests the hedge fund's average cost basis was below $120 a share. So this is a decent outcome as far as the activist firm's investment is concerned, although hardly a home run.
Given how long and drawn-out this process was, it's unlikely any counter-bidders would emerge for Athenahealth. Best for all involved to accept this good-enough ending.
This column does not necessarily reflect the opinion of the editorial board or Bloomberg LP and its owners.
Brooke Sutherland is a Bloomberg Opinion columnist covering deals and industrial companies. She previously wrote an M&A column for Bloomberg News.