Mickey Mouse Vs. the Hedge Funds
(Bloomberg Opinion) -- Equal treatment of shareholders is a central tenet of Britain's takeover rules. To uphold that principle, U.K. regulators should force Walt Disney Co. to make a higher offer to investors in Sky Plc if it gains an influential stake in the satellite broadcaster from Twenty-First Century Fox Inc.
Sky is already subject to a bid from Fox, which wants to buy the shares it doesn't already own, plus a separate offer for the whole company from U.S. broadcaster Comcast Corp. The Takeover Panel said in April that, in certain circumstances, Disney should launch a bid for Sky, too.
That backstop is taking on increasing significance. It is a byproduct of the deal Disney hatched in December to buy most of Fox's assets, among them the 39 percent stake in Sky. The panel reckons this is a sign Disney wants to control Sky. Hence it will require the U.S. firm to make an offer for the U.K. broadcaster in the event that it inherits Fox's holding (assuming, that is, the rival takeover bids haven't already succeeded).
A mandatory bid needs a value. The panel set this at 10.75 pounds a share – the same as Fox's offer for Sky, which is in the last stages of obtaining U.K. government approval. That no longer makes sense. Last week, Disney increased its offer for the Fox assets it is trying to buy. Arguably, this means it would be paying more for the Sky part of the bundle. If Sky's independent shareholders are to be treated fairly, they should be offered the same price for their shares that Fox would be getting for its shares. And that has gone up.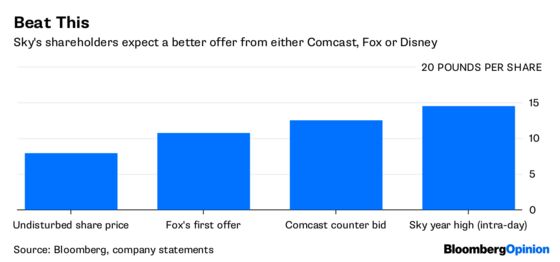 Disney could, of course, argue that the price put on Sky in the revised Fox deal hasn't changed, and it's paying more for everything else in the package. That would be hard to swallow. Sky did well in the U.K. soccer rights auction in February. What's more, analysts at advisory firm United First Partners note that Disney's forecasts for Sky's financial performance have increased.
How much more should Sky shareholders receive? The panel could dive into the weeds and calculate the precise value of the Sky component within Disney's offer for Fox's assets. Or it could just apply Disney's wider sweetener to previous 10.75-pound mandatory offer. On an enterprise value basis, the increase is 29 percent. Applying that to the original Sky bid, the revised offer would have to be roughly 13.80 pounds a share. UFP says 13.11 to 13.65 pounds a share would be consistent with Disney's projections.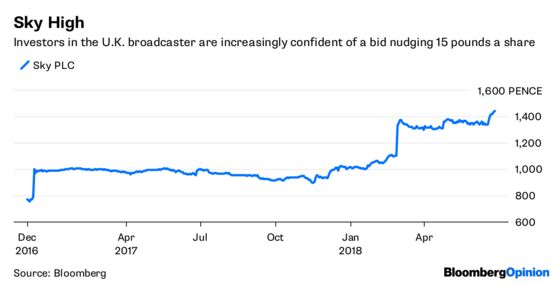 Sky shareholders – and hedge funds playing the situation –  are understandably emboldened. The stock almost almost touched 14.45 pounds on Wednesday.
Where this will end is still guesswork. The mandatory bid depends on Disney succeeding in its deal for the Fox assets – including the Sky stake. With Comcast trying to disrupt both the Disney bid for Fox and the Fox bid for Sky, that outcome is far from guaranteed.
Britain's takeover watchdog won't relish having to tell Disney how much to bid in such a sizable deal. But the principle of shareholder equality demands it press the issue. It can always get everyone to agree on a third party to set the price. Even in this three-way tussle there must be an investment bank that isn't yet involved.