Super Typhoon Goni's Death Toll Rises to 16 in Philippines
(Bloomberg) -- The world's strongest storm this year killed at least 16 people in the Philippines, and sent tens of thousands more to evacuation centers, risking coronavirus infection.
Nearly 458,000 people were evacuated mostly in the main island of Luzon, including 177 Covid-19 patients and more than 400 medical staff from 10 quarantine facilities, the nation's disaster risk-monitoring agency said in a report earlier on Monday. Health Secretary Francisco Duque, in a televised briefing, asked local officials to ensure social distancing measures are in place in evacuation centers.
Super Typhoon Goni, the equivalent of a Category 5 hurricane, slammed the eastern portion of the Philippines on Sunday morning and crossed several provinces including near the capital before heading to the South China Sea.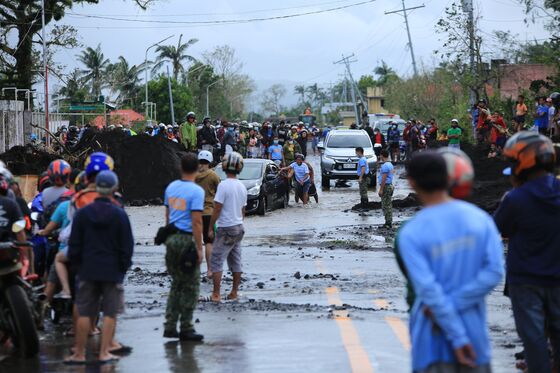 The Philippines' 18th storm this year is "the strongest landfalling tropical cyclone" in history, according to Jeff Masters, a meteorologist with Yale Climate Connections. The previous record was held by Super Typhoons Meranti and Haiyan, which hit the Philippines in 2016 and 2013 respectively.
Most of the fatalities were in Albay and Catanduanes provinces south of Manila, some of them swept away by raging waters, according to the region's disaster risk-monitoring agency.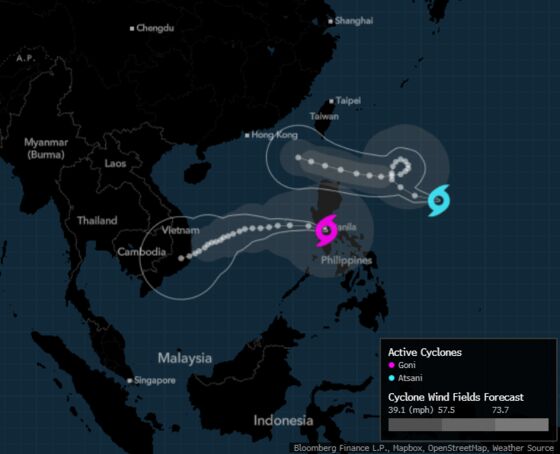 President Rodrigo Duterte conducted an aerial inspection of typhoon-hit areas on Monday afternoon.
More than 65% of homes in Catanduanes, the province where Goni made landfall, were damaged and electricity and telecommunication lines are still down, its Governor Joseph Cua said in a briefing.
Six power plants are shut, and together with felled electric posts and damaged transmission lines, left 125 cities and towns without electricity. The power outage may lead to problems in the cold management of Covid-19 test kits and specimen, Duque said.
Thirty-three airports, including Manila's Ninoy Aquino International Airport, were cleared to resume flights on Monday morning.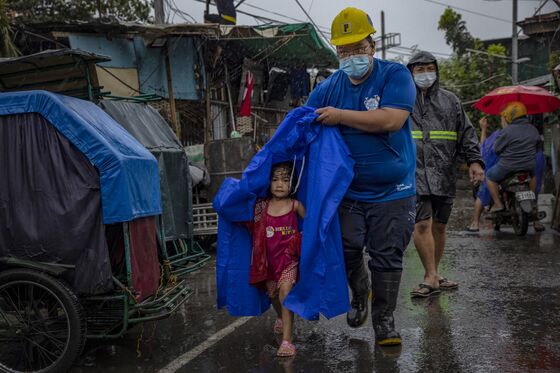 Initial damage to infrastructure was estimated at 5.6 billion pesos ($116 million), Public Works Secretary Mark Villar said in a televised briefing. It also destroyed 1.73 billion pesos worth of crops, including 69,411 metric tons of rice, adding to the 2 billion-peso damage from Typhoon Molave last week.
The Department of Environment and Natural Resources suspended quarrying operations around Mayon Volcano in Albay province after stockpile that was washed away by floods and lahar buried houses.
Goni moved away from the main Luzon Island Sunday night. Another storm, Atsani, is expected to hit the northern tip of the Philippines later this week, the weather bureau said.
An average of 20 cyclones pass through disaster-prone Philippines every year, which will likely complicate the nation's fight against the coronavirus as thousands of people stay in cramped evacuation sites. In 2013, Haiyan killed more than 6,300 people.
It often takes weeks, or even months for scientists to determine if a single extreme weather event can be attributed to climate change -- and that's a dramatic improvement over what was possible just a half-decade ago. Attribution is especially tough when it comes to hurricanes and typhoons.
"It is always very challenging to link specific extreme events to climate change," said Carlo Buontempo, director of Europe's Copernicus Climate Change Service. "Even in the absence of a trend in the intensity of tropical cyclones, the damages induced by these storms will increase due to a combination of rising sea levels and the already large and probably increasing number of human settlements along the coast."