Here's What Happens When a Hedge Fund's Star Walks Away
(Bloomberg) -- Andrew Fredman hit the hedge-fund lottery. For a decade and a half, he made a fortune as the investment brains behind Fir Tree Capital Management.
Then, at 53, he walked away.
What happened next shows the vagaries of the hedge-fund business -- and how quickly a hot hand can go cold when a star steps back.
Since 2015, Fredman's last year at Fir Tree, assets have dropped by about $8 billion to about $5.3 billion, according to documents seen by Bloomberg. Caught in a downdraft for so-called value-oriented firms, Fir Tree's challenges have been exacerbated by bad trades. Clients have pulled money, and two-thirds of its investment team from the time is gone.
Fir Tree's travails reflect one of the most vexing issues in the $3 trillion hedge fund business: succession. From marquee names like Ray Dalio's Bridgewater Associates to more under-the-radar players like Fir Tree, a generational shift has begun. Greats of the past decade or more are starting to hand over the reins. Others are shuttering their firms and returning client money.
When Fredman left, even those close to him were stunned. The credit trader had joined Fir Tree in 2000 at the urging of founder Jeff Tannenbaum, a former analyst at private equity firm Kohlberg & Co. and classmate from Tulane University. At the time, the six-year old hedge fund managed about $300 million. (Tannenbaum means "fir tree" in German.)
But Fredman was never a typical hedge-fund honcho. As the firm blossomed in New York, he stayed with his family in Coral Gables, Florida. He was on around the clock, and often quizzed his analysts in ways that showed how much work he'd done himself. He tapped a pair of business journalists for shoe-leather research, to supplement a corps of banker-types that clung to financial models.
He was also a magnet for talent. People came to train with a man some former employees characterize as a mad genius. Over the 16 years, Fir Tree's value fund -- which seeks stocks and bonds trading at a bargain -- had annualized gains of 7.5 percent, besting peers and broader market indexes, investor documents show.
Fredman's passion for investing allowed Tannenbaum to focus on Fir Tree's business side and his environmental interests, including championing a trade in a solar power company known as sPower. While Tannenbaum kept ownership of the firm, he lived in London for a few years and otherwise worked mostly from a satellite office in suburban Westchester.
By early 2015, Fredman was overseeing $13 billion. But he didn't like running such a large book and was burning out, people with knowledge of the matter said. He announced his retirement in May and passed the baton to his top lieutenant, David Sultan.
Today, Fredman quietly manages his own money and occasionally tweets about politics, gun violence and the financial markets. After repeated requests for comment, he sent a text message with the cover image of the book "Don't Take Your Life Personally" by Buddhist monk Ajahn Sumedho.
Tannenbaum, now the firm's chairman emeritus, and the current co-chief investment officers declined to comment for this article, as did a spokesman for the firm.
But people with knowledge of their thinking say they believe the transition has been a success, despite the setbacks. They point to $2.2 billion in distributions to investors since the end of 2015 and an employee retention rate that has about 40 percent of staffers at the firm for nine years or more.
True enough, the hedge-fund industry is littered with carcasses of firms that had no succession plan and shuttered with a CIO's departure. After all, hedge funds, at their heart, are entrepreneurial ventures often built around one person's brilliance.
When Fir Tree announced Fredman's exit, it told investors that Sultan, who'd been with the firm since 1999, would be supported by a tenured group of managing directors: Clinton Biondo, Aman Kapadia, Diego Dayenoff, and Daniel Lifshitz.
Behind closed doors, Sultan and the managers -- who also declined to comment -- pressed Tannenbaum on how Fredman's slice of the firm's profits would be redistributed, according to people with knowledge of the matter. After a few weeks of tense negotiations, they were given Fredman's interests plus half of Tannenbaum's, according to some of the people.
Just as the transition was underway, a collapse in crude prices tanked the firm's investments in master limited partnerships, or MLPs, which are used by some energy companies for pipeline businesses. The flagship value fund suffered one of its worst years on record in 2015, plunging 8.6 percent.
Miami-based Biondo -- an avid contender of the Wall Street Decathlon who joined the firm in 2005 -- had a winning hand that helped stanch the bleeding. He piled into $3.5 billion of distressed energy bonds for, in some cases, pennies on the dollar, as the firm exited its battered MLP stakes. The investments began to rocket as oil rebounded mid-2016, and the flagship fund ended the year up 1 percent. The wager was so successful that Fir Tree offered clients a concentrated energy fund with an expected five-year lifespan, which soared 39 percent in 2016.
The win renewed tensions over money, and more leadership changes followed. Even as some of Biondo's energy bets began to sour, he was promoted to Sultan's co-CIO at the end of 2017 and Tannenbaum restructured the firm's ownership structure to make the pair principals.
But stability in the core group -- conveyed to investors as a reason not to worry about the transition from the Fredman era -- was soon gone.
After 11 years at the firm, Kapadia, who focused on non-energy equities, stepped back in early 2018 with a plan to start his own fund. Dayenoff, whose main focus was in emerging markets, quit months earlier for another hedge fund while Lifshitz had been moved to a new role.
Turnover extended across the firm. Of the 39 people on Fir Tree's investment team in mid-2015, at least 24 of them have since left, some involuntarily.
The departures, along with waning fund performance, have weighed on morale, people familiar with the firm said. The flagship fund has lost 13 percent over the last four years, and about $6 billion in assets, documents show.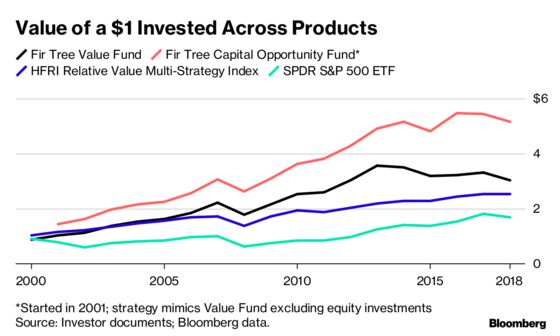 That's due, in part, to Biondo's distressed energy bets -- many of which are now illiquid, private-equity-style positions that together make up 8 percent of Fir Tree's assets, documents show.
Take Ultra Petroleum Corp. Last April, Fir Tree -- which has visibility into the gas driller as its largest shareholder, with one of its own employees chairing the board -- told investors that the shares could be worth more than $20 each. They traded at 72 cents Friday, an 88 percent decline from a year earlier.
Several other energy bets, including Halcon Resources Corp., Jones Energy Inc., Midstates Petroleum Co. and Eco-Stim Energy Solutions Inc,. have been burning cash, struggling with costs or missing targets. The selloff in crude in late 2018 hammered Fir Tree's biggest energy holdings, Roan Resources Inc. and Riviera Resources Inc.
At least two investors in Fir Tree's energy fund -- which plunged 49 percent last year -- say they had hoped to get some payouts by now. But the positions are too big and in too thin a market.
"Most of our positions were effectively orphaned, trading down in a vacuum where there was virtually no institutional or hedge fund support,'' Fir Tree said in a January investor letter.
Fir Tree's best hope, some investors say, is to keep the flagship fund -- which oversaw $2.9 billion as of Dec. 31 -- at its smaller size so managers can more easily put money to work. Most of the capital in that fund is locked up for rolling two-year periods.
The firm is also expanding other vehicles, like raising more money for its Puerto Rico fund, which holds $1 billion of debt exposed to the commonwealth. The securities were Fir Tree's biggest winners in 2018. The hedge fund is also raising capital for a fund with a sole investment, Japanese transportation company Kyushu Railway Co.
"It can take time (sometimes years) for the market to reward our value creation," Fir Tree wrote in the letter. "We remain patient," it said.