At 3%, Yields Feel Like Game Changer: European Equity Pre-Market
(Bloomberg) -- Euro Stoxx 50 futures are little changed, following a mixed U.S. session. After a market holiday on Monday, Chinese equities are retreating as the world's two biggest economies are testing the market's resilience sticking to escalation in their trade war. The dollar ticks higher while the 10-year Treasury yield consolidates above 3%.
With yields on the rise again, the attitude toward dividends among investors is changing as the market no longer lacks high-yielding instruments. This is particularly bad news for European equities, where the dividend yield is almost double that of U.S. peers.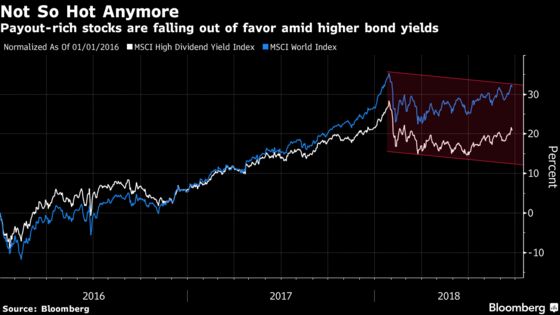 On the M&A menu today: European food delivery is back in focus with Amazon said to be in early stage talks with Deliveroo over a possible acquisition, competing with Uber approach last Friday. Watch Just Eat, Delivery Hero and Takeaway.com.
On the macro side, Europe is waiting on Italy to finally release its budget, and so far, the coalition has been sending mixed messages. La Stampa reported the government is heading for a compromise deficit of 1.9%, which should reassure investors. But it's the difficult outlook beyond it that is worrying Goldman Sachs strategists. They say the budget should result in only a limited and temporary fall in Italian bond yields.
Elsewhere, oil futures are holding gains as traders anticipate a further rise following OPEC resistance to President Trump's call to increase production, while gold still holds firm near $1,200. Most metals are falling in excess of 1%, lead by copper. This will likely impact miners, even if Morgan Stanley tries to give the sector a push today. The fact is miners are still trading near a five-year low valuation level and are kings in shareholders returns, Glencore being the latest miner to boost buybacks.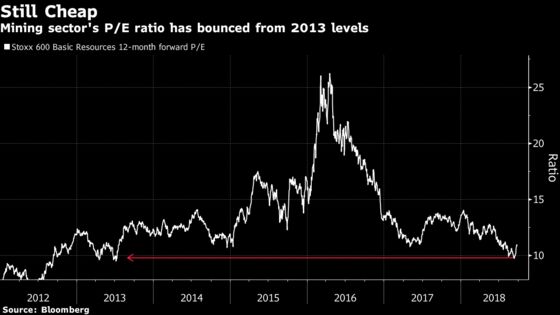 Finally, Europe is missing yet another market buzz: pot stocks. Pot is hot in the Great White North and so frenzied that fears of a bubble are rippling through the industry. There is a huge medicinal-only opportunity for now according to Canaccord, with U.K.-listed cannabis sector set to accelerate sharply in the next 12 months.
"The equity-bond correlation has generally been negative since the Financial Crisis as higher bond yields have usually been associated with better economic growth," Goldman Sachs strategists write in a note. "With U.S. 10-year bond yield above 3% and U.S. real yields close to 1%, the risk especially to equities from rates is now back in focus. We think the bar for investing in risky assets is rising as returns on safer assets are becoming more attractive."
NOTES FROM THE SELL SIDE:
Morgan Stanley likes European metals & mining, which now present a "window of opportunity," after an "excessive pullback". They have raised the sector to attractive, with preference for Anglo American, Glencore, ArcelorMittal, Alrosa, Norsk Hydro and SSAB. In EEMEA, the bank prefers Alrosa, NLMK, and Polyus.
ING is the preferred pick for Jefferies among Benelux banks as the only one in its coverage to offer earnings growth potential to compete with other European banks.