Aston Martin Fails to Dazzle After CEO's Whirlwind Pre-IPO Hype
(Bloomberg) -- Andy Palmer has spent a good part of his time at the helm of Aston Martin spreading the word that the luxury sports-car maker should command the high valuations of its rival Ferrari NV, and slapping the U.K. brand on yachts, upscale baby strollers and even submarines.
By the start of trading Wednesday on the London Stock Exchange, the CEO had largely succeeded. Aston Martin was priced at 19 pounds ($24.69) a share in an initial public offering, on par with Ferrari's lofty profit multiples. But by day's end, the stock had slipped 4.7 percent, and continued its downward slide Thursday, losing 0.6 percent at 8:30 a.m. in London. The drop offers proof Palmer has a lot to do to convince investors of his vision for the Gaydon, England-based company.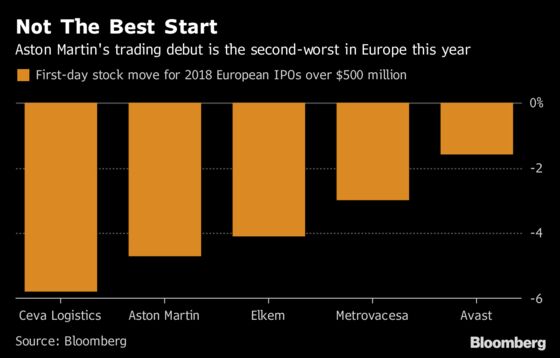 "We've taken 105 years to get to an IPO, we are not going to worry much on what the initial shares are doing," Palmer said in an interview with Bloomberg TV. "We will always look over the longer term."
Analysts were never so sure that the comparison with Ferrari was warranted. The Italian company is more profitable and has a stronger balance sheet, generating piles of cash. Palmer had spent the final two weeks before the IPO in a sprint, pitching the deal to more than 350 investors across the globe. But as the stock listing approached, it became clear the upper end of the original target of 22.50 pounds -- which would have valued the company at a Ferrari multiple-topping 5.1 billion pounds -- was out of reach.
"They priced it pretty well, getting that valuation," said Arndt Ellinghorst, an analyst at Evercore ISI in London. "For now, there is very little left until people see some numbers and are willing to take more risk."
Palmer, rubbing his eyes from exhaustion yet retaining a jovial disposition, pointed out that Ferrari lost 38 percent in its first four months of trading. It's long since recovered, and is up 36 percent this year to a $25.8 billion market value, despite industry uncertainty from trade wars, a softening of markets in China and the U.S., along with the death of former CEO Sergio Marchionne.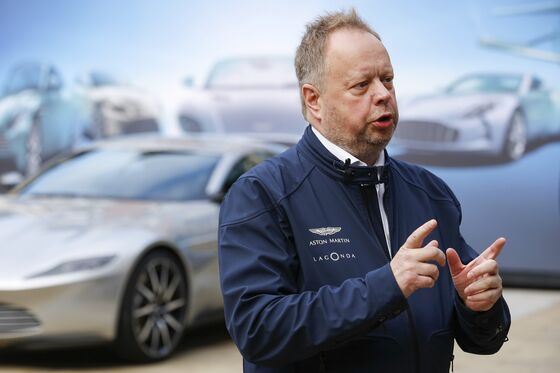 "Just remember what happened to Ferrari when they listed. There was a lot of volatility there," Palmer said. For Aston Martin, it'll subside as investors "get comfortable with the idea that there's a second car maker in the luxury space."
The British manufacturer, now known as Aston Martin Lagonda Global Holdings Plc, is still working to expand its presence in the sports-car world with the Vanquish, Vantage and DB models. It's also reviving the Lagonda name with an all-electric brand aiming to break into the segment shared by U.K. rivals Rolls-Royce Motors and Bentley. A new SUV and Aston's first electric car -- the Rapide E -- are both due next year.
Analysts, though, have questioned the comparison of Aston Martin with its Italian competitor. Aston Martin's IPO valuation was 20.7 times annual profit, based on first-half earnings, close to Ferrari's current share multiple of 21 times expected 2018 profit, according to Bloomberg data.
What analysts are saying:
Unlike Ferrari before its own IPO, Aston Martin doesn't generate cash: Quest analyst James Congdon at Quest, a division of Canaccord Genuity.
U.K. car maker needs to "dramatically" raise prices or boost production without cost inflation: Sanford C. Bernstein's Max Warburton
Aston needs to successfully launch its new SUV to fund R&D as well as churn out new models, build production line, revive second brand: Bloomberg Intelligence
Palmer, who arrived from Nissan Motor Co. in 2014, has unveiled a series of models to support a plan to eventually double output to 14,000 cars a year. While he said he's "comfortable" with what market forecasts for full-year earnings, he's also happy to promise less and deliver more.
Palmer has managed to turn around a historically loss-making car-maker into a profit generating company that is on its way to building its cash flow. Part of that plan is to market the Aston Martin name in what it considers refined circles. For now this includes Miami apartments and bomber jackets.
The company will only license its name on products that "aspire to be the most beautiful thing in its space," Palmer said. "We're not going to make fun-fair rides and we're not going to make hats and T-shirts anytime soon."