ASML Suppliers, Customers May Move After Its Earnings Report
(Bloomberg) -- When ASML Holding NV reports second-quarter earnings tomorrow morning, investors and companies up and down the semiconductor supply chain will be keeping a watchful eye. One of the first companies in the sector to report, ASML may see some short-term volatility amid weaker-than-expected smartphone demands.
MKS Instruments Inc. and Brooks Automation Inc. are two suppliers that earn more than 25 percent of their revenue selling products to ASML and other semiconductor equipment makers, according to Bloomberg Supply Chain data. Both experience added share movement the day after ASML reports earnings, about 2.1 percent and 2.3 percent respectively since 2016. That's greater than the S&P 600 Information Technology Sector Index's average one-day change of 0.7 percent.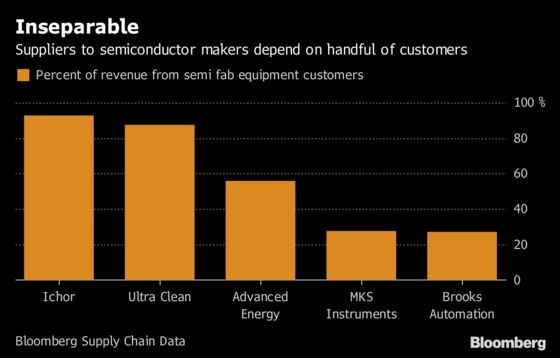 ASML competitors Applied Materials Inc. and KLA-Tencor Corp., as well as their top suppliers Ichor Holdings Ltd. and Ultra Clean Holdings Inc. may also show added share movement. According to Bloomberg Supply Chain data, the average one-day price changes after ASML reports earnings for Applied Materials and KLA-Tencor since 2016 are 1.9 percent and 1.7 percent respectively, more than the Philadelphia Stock Exchange Semiconductor Index average one-day change of 1.1 percent. Historically, Ichor and Ultra Clean which generate the majority of their revenue from ASML's peers, have seen average one-day price changes of 5.6 percent and 2.8 percent for the same period.
Looking down the supply chain, Micron Technology Inc., one of the top buyers of capital equipment from ASML and its competitors, moved an average of 2.4 percent after ASML's quarterly earnings reports since 2016, according to Bloomberg data, also greater than the Philadelphia SOX Index.