Vaccine Stocks Rebound as Merkel Opposes Waiver of Patents
(Bloomberg) -- Shares of Covid-19 vaccine developers got some relief after the German chancellor opposed a U.S. proposal to waive patent protections for coronavirus shots.
Chinese vaccine makers rebounded after slumping Thursday on the news that the U.S. would support lifting the intellectual property protections. The Biden administration's plan would create "severe complications" for the production of vaccines, a German government spokeswoman said Thursday in an email.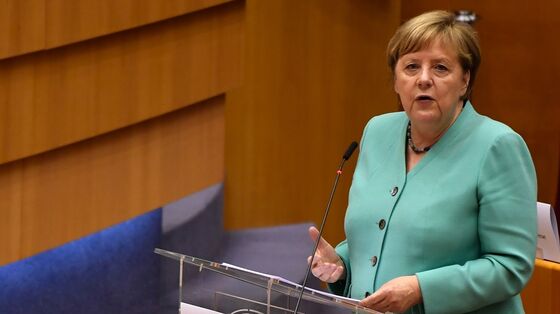 Shanghai Fosun Pharmaceutical Group Co., which has the rights to develop and market BioNTech SE's shot in China, advanced as much as 7% in Hong Kong after sinking 14% the previous day. Walvax Biotechnology Co. gained 0.5% in Shanghai after an 11% slump Thursday.
Vaccine makers' stocks in Europe and the U.S. bounced a bit in late trading Thursday after the German government announced Chancellor Angela Merkel's opposition. On Friday, AstraZeneca Plc rose again in London, gaining 0.4%, while French developer Valneva SE jumped 5.1%. Among U.S.-listed companies, CureVac NV advanced 5.9% in German trading from its closing price in New York, Novavax Inc. rose 2.6%, BioNTech climbed 1.7% and Pfizer Inc. was little changed.
Before Merkel's announcement, some analysts had pointed out that lifting patent protections wasn't a done deal. The Biden administration's plans will only open up a negotiation at the WTO and other countries and members remain unwilling, said Barclays Plc analyst Carter Gould in a note.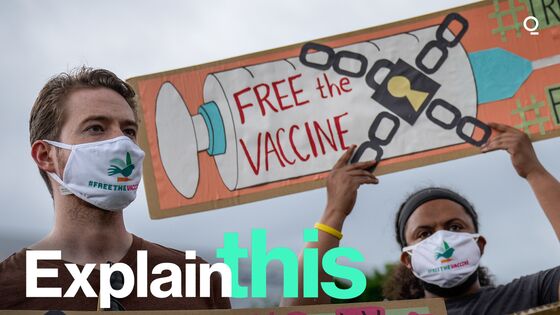 With many countries struggling with a resurgence of the virus, U.S. Trade Representative Katherine Tai said Wednesday the Biden administration supported the effort at the World Trade Organization to waive the patent rights. The European Union said Thursday it was willing to participate.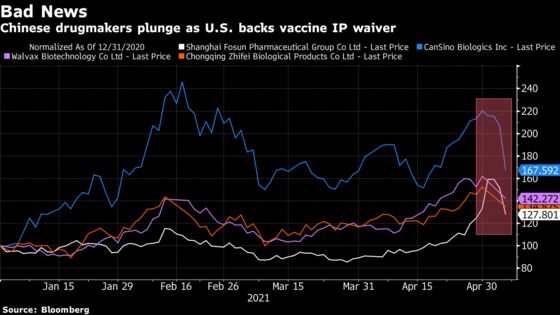 Vaccines have been a big business for the firms that make them, with Pfizer, BioNTech's partner outside of China, raising its forecast for 2021 vaccine sales to $26 billion just this week. AstraZeneca has pledged not to profit from its Covid shot during the pandemic.
Read more: Analysts say investor fears of U.S. vaccine waiver support are overblown
The International Federation of Pharmaceutical Manufacturers & Associations condemned the move lift IP protections as "disappointing."
"A waiver is the simple but the wrong answer to what is a complex problem," the group said in a statement. "Waiving patents of Covid-19 vaccines will not increase production nor provide practical solutions needed to battle this global health crisis."