Asian Traders Bracing for Further Volatility as Virus Spreads
A tentative recovery in Asian risk assets came to an abrupt end this week as the coronavirus spread outside China, and option markets suggest traders are bracing for more downside ahead.
Expected price swings in Korean stocks and the won jumped to five-month highs as new cases surged in the country. The yen slumped to its weakest in 10-months against the dollar, yet Japan's currency-sensitive stocks finished the week lower.
"The sudden jump in infections in other parts of Asia, notably in Japan and South Korea, has sparked renewed concerns," said Khoon Goh, head of Asia research at Australia & New Zealand Banking Group Ltd. in Singapore. "This points to a new phase in the outbreak, and one which will see continued disruption and more economic impact than previously thought."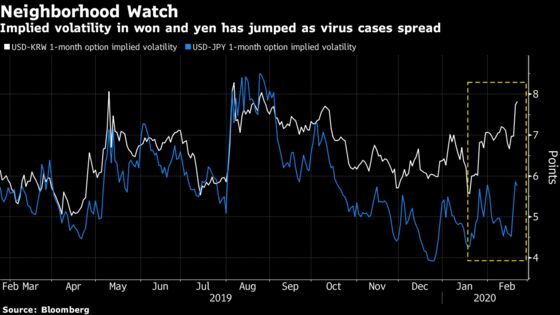 The rapid shift in sentiment marks a change from earlier in the month when investors adopted a buy-the-dip mentality as the pace of new cases declined in China. The MSCI Asia Pacific Index erased about half its virus-related losses from late January in the first two weeks of February.
Now stocks are falling again as infections multiply outside of China and worries are growing the outbreak is entering a concerning next phase. Traders are bracing for more downside and measures of expected price swings are pushing higher.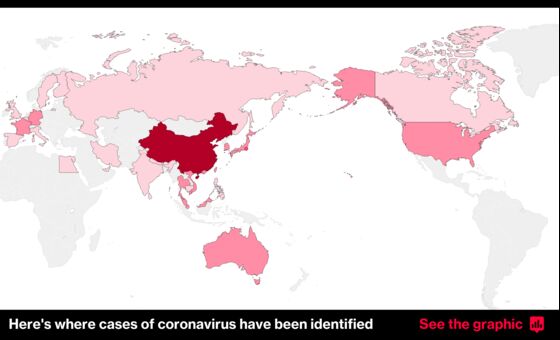 Yen Fallout Hints Market Bets May Have FX Volatility All Wrong
The Kospi 200 Volatility Index rose as much as 9% Friday to its highest since August, as South Korea reported more coronavirus cases that brought its total past 200. Japanese stocks closed mostly lower, erasing an early advance on yen weakness, and the Nikkei Stock Average Volatility Index hit its highest in more than two weeks.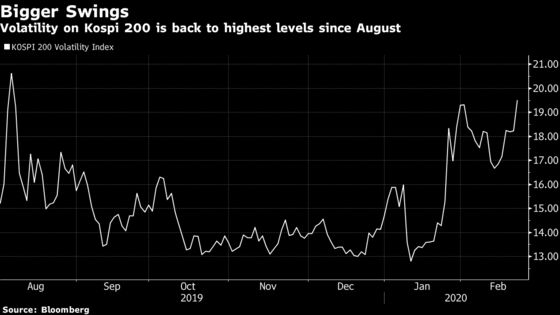 It doesn't help that the concerns are mounting on a Friday, ahead of markets being shut for the weekend -- a situation that often makes traders nervous holding open positions because of the chance for potentially negative news to come out. Japan's markets are also shut on Monday.
"We have seen weekly seasonality recently where people look to cover risk ahead of the weekend to be prudent," said Damien Loh, chief investment officer at Ensemble Capital Pte in Singapore. "I think this is partly the case."
Meanwhile, in the heart of the outbreak, Chinese stocks saw modest gains as the number of new infections continued to slow. But it's still the elephant in the room.
"Given the situation we are in, volatility is to be expected until we understand the impact on the Chinese economy when numbers come out next month," said Justin Tang, head of Asian research at United First Partners in Singapore. "The light at the end of the tunnel is that workers are returning back to their posts."