Stocks Buckle Amid Pessimism on Virus; Bonds Rise: Markets Wrap
(Bloomberg) -- U.S. stocks fell for the first time in four days as worrying increases in coronavirus cases overtook optimism about stimulus measures. Treasury note yields fell and the dollar was little changed.
The benchmark S&P 500 Index swung between gains and losses for most of Wednesday before turning red late, with the energy, real estate and financial sectors leading the declines. Apple and Microsoft helped the Nasdaq Composite close positive. Infections increased from China to Brazil and Iran warned it may need a new lockdown. Texas reported a surge in hospitalizations.
"The market is searching for a new catalyst," said Sameer Samana, senior global market strategist at Wells Fargo Investment Institute. "The narrative around policy stimulus and better economic data seems to be losing its sway."
While volume was 20% below the 30-day average Wednesday, trading has been volatile for the past two weeks. After rising to a 12-week high on June 8, the S&P 500 tumbled 7% over three days before staging a 4% rebound in the next three sessions.
"Volatility is for sure here to stay and probably through the end of the year," said Michael Reynolds, investment strategy officer at Glenmede Trust. "We're dealing with something that is not economic in nature, anyone who thinks they can predict the path of this virus is surely kidding themselves."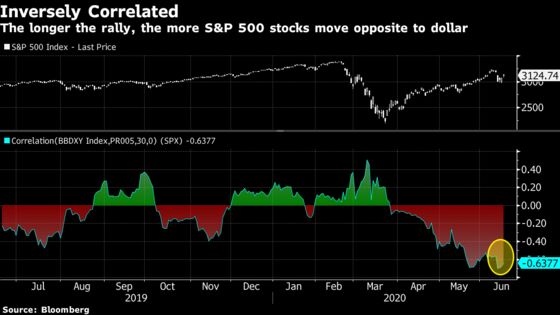 The thin volume exacerbated swings, including a drop that began around the time newspapers published summaries of John Bolton's critical book about President Donald Trump.
Investor optimism toward risk assets had been reflected in bets that new virus outbreaks won't lead governments to pull back from gradually reopening businesses. Federal Reserve Chairman Jerome Powell urged Congress not to pull back too quickly on federal relief to households and small businesses put in place because of the pandemic.
"Global markets could remain stretched between a health situation likely to remain a threat in several regions for some time on the one hand, and a stream of positive macro figures confirming that we have passed the low point on the other," said Xavier Chapard, a global macro strategist at Credit Agricole.
Texas reported an 11% surge in virus hospitalizations, the biggest 24-hour increase since June 4. Brazil registered a record 34,918 new infections, while China is escalating containment measures in Beijing including canceling flights.
Elsewhere, crude oil futures declined, after two sessions of advances.
These are some key events coming up:
Policy decisions from the Bank of England and the Swiss National Bank are due on Thursday.
These are some of the main moves in markets:
Stocks
The S&P 500 Index decreased 0.4% to 3,113.47 as of 4:02 p.m. New York time.
The Dow Jones Industrial Average dipped 0.6% to 26,119.61.
The Nasdaq Composite Index rose 0.1% to 9,910.53, the highest in a week.
The MSCI All-Country World Index was little changed at 528.36, the highest in a week.
Currencies
The Bloomberg Dollar Spot Index was little changed at 1,214.15.
The euro decreased 0.3% to $1.1235, the weakest in two weeks.
The Japanese yen strengthened 0.3% to 107.05 per dollar, the largest advance in a week.
Bonds
The yield on 10-year Treasuries declined three basis points to 0.73%.
Germany's 10-year yield gained four basis points to -0.39%, the highest in a week on the largest rise in more than a week.
Commodities
West Texas Intermediate crude decreased 1.8% to $37.67 a barrel.
Gold strengthened 0.1% to $1,728.38 an ounce.