Stocks Edge Higher; Treasuries Rise, Dollar Falls: Markets Wrap
(Bloomberg) -- Stocks edged higher, while Treasuries advanced as an ongoing pause in trade tensions outweighed a mixed start to earnings season.
The S&P 500 Index rose for a second week, breaking through the key 2,800 level for the first time since March. Big banks opened earnings with mixed results, while AT&T Inc.'s stock slumped after the Justice Department said it will appeal an antitrust ruling in favor of the company. Shares of Cisco Systems Inc. tumbled after reports Amazon.com Inc. is considering becoming a competitor, dragging down networking-equipment companies.
The dollar saw its largest weekly gain in a month, while the 10-year Treasury yield clung to its first weekly advance in five. The ruble declined after Special Counsel Robert Mueller indicted 12 Russian spies for hacking. West Texas crude climbed to above $70 a barrel.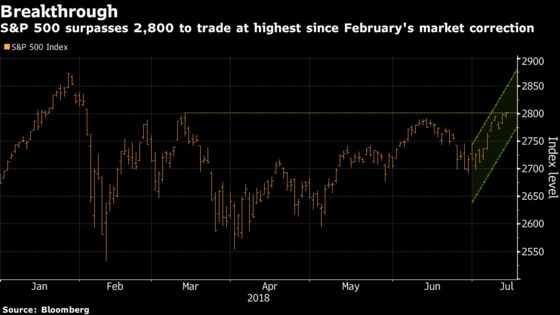 "Trade issues aren't going away, investors are going into areas perceived to be safer. And as long as you've got a market where there is rotation, that's telling you investors are still prepared to be exposed to the stock market," Quincy Krosby, chief market strategist at Prudential Financial Inc., said by phone.
Traders may get some relief as earnings season gets underway in earnest. Trade tensions seemed to ease somewhat, with officials in Beijing appearing to moderate their responses to Trump's tariff threats amid a slowing economy, falling stock market and weakening currency. Still, China's monthly trade surplus with the U.S. rose to a record in June and exports to the nation also soared, underlining the cause of the escalating trade war.
Meanwhile, most metals declined, with gold heading for the lowest close in a year. Emerging-market shares extended gains to head for a first weekly advance in five.
Terminal users can read more in Bloomberg's Markets Live blog.
And here are the main market moves:
The S&P 500 Index rose 0.1 percent to 2,801.22 as of 4 p.m. New York time.
The Stoxx Europe 600 Index increased 0.2 percent
The MSCI All-Country World Index rose 0.2 percent.
The MSCI Emerging Market Index climbed 0.4 percent.
The Bloomberg Dollar Spot Index fell 0.1 percent.
The euro was steady at $1.1671.
The British pound was little changed at $1.3201.
The Japanese yen rose 0.1 percent to 112.42 per dollar.
The yield on 10-year Treasuries dipped two basis points to 2.83 percent.
Germany's 10-year yield sank two basis points to 0.34 percent.
Britain's 10-year yield dipped one basis points to 1.273 percent.
The Bloomberg Commodity Index declined 0.3 percent.
West Texas Intermediate crude advanced 0.5 percent to $70.68 a barrel.
Gold fell 0.5 percent to $1,241.29 an ounce.