Stocks, Bonds Rise as Minutes Show Taper Debate: Markets Wrap
(Bloomberg) -- U.S. stocks rose to record highs and bonds gained as minutes from the Federal Reserve's latest meeting showed policy makers continued to see elevated uncertainty and debated the tapering of debt purchases used to fuel stimulate to the economy.
Ten-year U.S. note yields fell for a second day, dropping briefly below 1.3% for the first time since February, as expectations for an inflationary economic recovery continued to fade. The S&P 500 and Nasdaq Composite each closed at all-time highs, with the benchmark S&P doing so for the eighth time in nine trading sessions.
"Markets are still enjoying this Goldilocks period that we are in," said Don Calcagni, chief investment officer of Mercer Advisors. "The market is still riding high on that euphoria and that's why you're seeing the 10-year at 1.31%."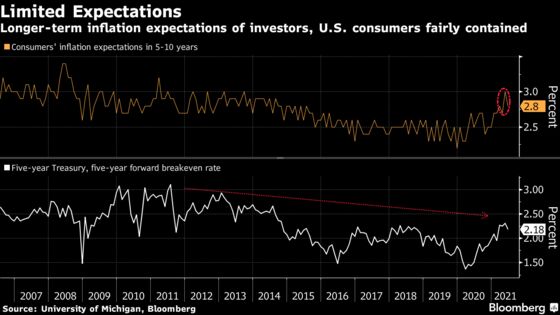 Fed officials expected to continue to make progress on reaching its threshold to scaling back their massive asset purchases, the record of their June gathering showed. Various participants mentioned that they expected the conditions for beginning to reduce the pace of asset purchases to be met somewhat earlier than they had anticipated at previous meetings.
The June meeting also marked a turn in the central bank's comfort with inflation risks amid heightened price pressures as the economy reopens from the pandemic, buoyed by massive monetary and fiscal-policy support.
"They're quite disconnected from the bond market," said Max Gokhman, head of asset allocation at Pacific Life Fund Advisors. "If more Fed officials are worried about inflation and see us making strong economic progress to where asset purchases can be tapered earlier then yields should be going up, not down."
The dollar was little changed against a basket of major currencies. Oil fell amid the OPEC+ crisis, which has stymied efforts to raise production and buffeted prices.
Elsewhere, Bitcoin gained and gold advanced for a sixth day. Australian and New Zealand bonds rallied. Asian stocks fell, with Chinese tech firms in Hong Kong retreating after Beijing's cybersecurity probe of ride-hailing giant Didi Global Inc.
For more market commentary, follow the MLIV blog.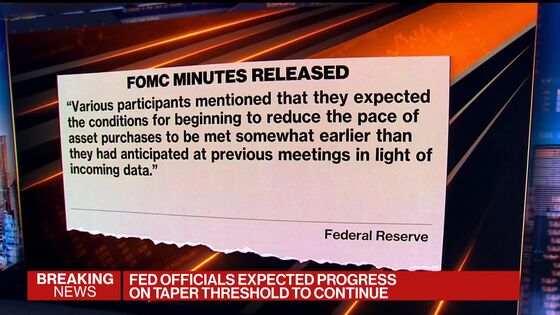 Here are some events to watch this week:
The Group of 20 finance ministers and central bankers meet in Venice on Friday
China PPI and CPI data released on Friday
These are some of the main moves in markets:
The S&P 500 rose 0.3% to a record high as of 4 p.m. New York time
The Nasdaq 100 rose 0.2% to a record high
The Dow Jones Industrial Average rose 0.3%
The MSCI World index rose 0.2%
The Bloomberg Dollar Spot Index rose 0.1%, climbing for the third straight day, the longest winning streak since July 1
The euro fell 0.2% to the lowest since April 2
The British pound was unchanged at $1.3800
The Japanese yen strengthened 0%, rising for the fourth straight day, the longest winning streak since June 29
The yield on 10-year Treasuries declined three basis points to the lowest since Feb. 18
Germany's 10-year yield declined three basis points to the lowest since April 9
Britain's 10-year yield declined three basis points to the lowest since Feb. 17
West Texas Intermediate crude fell 2.2% to $71.77 a barrel
Gold futures rose 0.6%, climbing for the fifth straight day, the longest winning streak since May 20