Stocks Close Volatile Week Higher; Crude Oil Falls: Markets Wrap
(Bloomberg) -- U.S. stocks rallied into the close of trading after whipsawing investors during a volatile week that featured optimism over the reopening of the economy and a renewal of trade tensions. The dollar strengthened and oil snapped a six-day winning streak.
The S&P 500 index swung between gains and losses before finishing up 0.2%. Technology shares helped the Nasdaq Composite outperform, while Caterpillar and Johnson & Johnson weighed on the Dow Jones Industrial Average. Today's volatility came as traders braced for tension between Washington and Beijing to escalate after China announced plans to impose a national security law on Hong Kong.
"It's been liquidity driven," said Candice Bangsund, portfolio manager of global asset allocation at Fiera Capital Corp. "We've seen unprecedented support from policy makers and that's what's been driving the recent gains, and reopening of major economies."
Investors took some comfort after U.S. National Institute of Allergy and Infectious Diseases chief Anthony Fauci said he doesn't support a prolonged lockdown.
The Stoxx Europe 600 Index edged lower as the risk-off tone took hold earlier in Asia, where Hong Kong's benchmark stock index plunged more than 5% amid a broad selloff. The yuan dipped as China's National People's Congress abandoned its decades-long practice of setting an annual target for economic growth amid uncertainty unleashed by the coronavirus pandemic.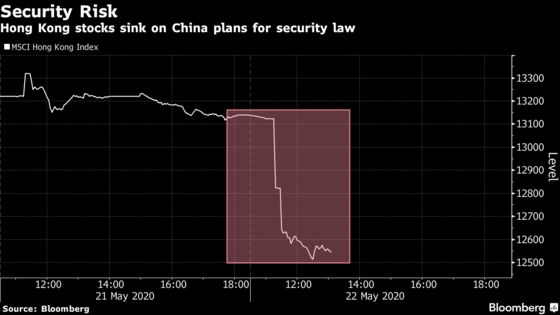 The prospect of fresh turmoil in Hong Kong following sweeping national security legislation introduced by China comes as the relationship between the world's two biggest economies appears to be souring. The S&P 500 closed lower on Thursday, with signs mounting that President Donald Trump will make his tough stance on China a key element of his re-election bid. Beijing responded to accusations from Trump, warning that it will safeguard its sovereignty, security and interests, and threatened countermeasures.
It all risks choking the rally that took global equities up about 30% from the March lows, spurred by stimulus measures and optimism for a swift economic recovery from the virus.
"The market is exhibiting signs of exhaustion," said Yousef Abbasi, global market strategist at INTL FCStone. "That makes sense considering how v-shaped the recovery in stocks has been."
Meanwhile, the pound weakened for a third day as data showed retail sales in the U.K. dropped by almost a fifth in April.
Elsewhere, gold rose. The Australian dollar dipped as Fitch Ratings Ltd. cut the country's rating outlook to negative. Indian bonds rallied after an unscheduled rate cut.
These are some of the main moves in markets:
Stocks
The S&P 500 Index climbed 0.2% to 2,955.45 as of 4:07 p.m. New York time.
The Dow Jones Industrial Average fell 0.1% to 24,465.16.
The Nasdaq Composite Index increased 0.4% to 9,324.59.
The MSCI All-Country World Index declined 0.4% to 491.98.
Currencies
The Bloomberg Dollar Spot Index gained 0.3% to 1,245.52, the largest rise in more than a week.
The Japanese yen was little changed at 107.60 per dollar.
The euro dipped 0.5% to $1.0903, the largest decrease in more than two weeks.
Bonds
The yield on two-year Treasuries advanced less than one basis point to 0.17%.
The yield on 10-year Treasuries dipped one basis point to 0.66%.
Germany's 10-year yield climbed one basis point to -0.49%.
Commodities
West Texas Intermediate crude dipped 1.9% to $33.41 a barrel, the first retreat in more than a week.
Gold strengthened 0.4% to $1,735.28 an ounce.