U.S. Stocks Start Week on Record-Setting Pace: Markets Wrap
(Bloomberg) -- U.S. equities climbed to a new high Monday amid hopes that a partial trade deal between America and China will ease a key risk for investors heading into year-end. Treasuries and the dollar fell.
With tech and health-care leading the charge, the S&P 500 Index rose in the wake of the agreement, which will see Washington reduce tariffs and Beijing increase purchases of American farm goods, although many details are still to be ironed out. In another positive sign, the Federal Reserve Bank of New York's survey measure of general business conditions in the next six months jumped to a five-month high.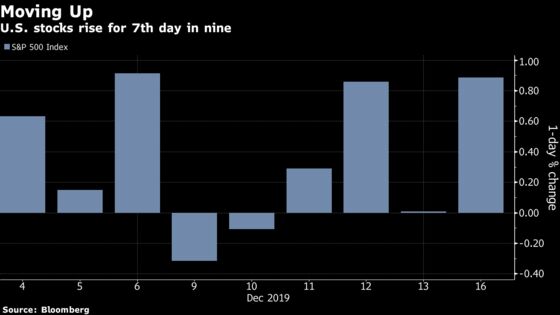 The announcement of the preliminary U.S.-China deal staved off a scheduled Dec. 15 tariff hike, a prospect that had loomed large for markets. It remains unclear how China will follow through on pledges to boost American agricultural imports, or how quickly the U.S. promise to roll back half of a September tariff hike will happen.
"Now that the 'good news' is here, what is next for stocks? This week should be the last week with any decent volume as investors head for home for Christmas and the New Year's holiday," Paul Nolte, a portfolio manager at Kingsview Asset Management in Chicago, wrote to clients. "Slow volume should also mean modest moves in stocks, so investors should be able to sleep easy and dream of sugar plum fairies to close out a very good year."
Still, China's threat of retaliation against Germany if it excludes Huawei Technologies Co. as a supplier of 5G wireless equipment shows that tensions remain high elsewhere. Also, the U.S. spent Monday acting to ease Mexico's concerns over labor monitors under the USMCA trade deal.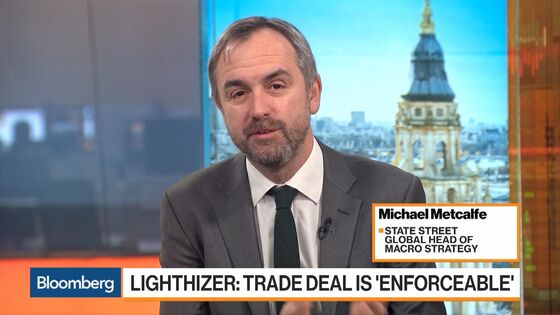 Elsewhere, oil hovered near a three-month high and gold held steady. Bitcoin slipped below $7,000.
Here are some key events to watch for this week:
Policy decisions are due Thursday from the Bank of Japan and the Bank of England.
Federal Reserve district bank presidents including Robert Kaplan of Dallas, Eric Rosengren of Boston and John Williams of New York are scheduled to speak this week.
Revised U.S. GDP data are due Friday.
Friday brings quadruple witching in the U.S., the simultaneous expiration date of stock index futures, stock index options, stock options and single stock futures. Expect elevated trading volume, particularly in the last hour of trading.
These are the main moves in markets:
Stocks
The S&P 500 Index gained 0.7% to 3,191.40 as of 4:00 p.m. New York time, the highest on record.
The Stoxx Europe 600 Index gained 1.4% to 417.75, the highest on record with the biggest rise in more than two months.
The U.K.'s FTSE 100 Index increased 2.3% to 7,519.05, the highest in more than 19 weeks on the largest climb in almost a year.
Germany's DAX Index rose 0.9% to 13,407.66, the highest in almost 23 months on the biggest advance in more than a week.
The MSCI Emerging Market Index increased 0.3% to 1,089.76, the highest in eight months.
Currencies
The Bloomberg Dollar Spot Index declined 0.2% to 1,192.66, the lowest in five months.
The euro climbed 0.2% to $1.1144, the strongest in more than six weeks.
The British pound increased 0.1% to $1.3343, the strongest in 18 months.
The Japanese yen depreciated 0.2% to 109.57 per dollar, the weakest in almost seven months.
Bonds
The yield on 10-year Treasuries climbed six basis points to 1.88%.
Germany's 10-year yield increased one basis point to -0.28%.
Britain's 10-year yield gained three basis points to 0.822%, the highest in about five months.
Commodities
West Texas Intermediate crude rose 0.3% to $60.23 a barrel, the highest in three months.
Gold was little changed at $1,476.45 an ounce, the highest in almost two weeks.