Stocks End Lower as Late Rally Falters; Bonds Gain: Markets Wrap
(Bloomberg) -- U.S. stocks closed lower for a fifth day, as an afternoon rally from the lowest levels for the S&P 500 since May fell short of pushing benchmark indexes back into positive territory. Treasury yields declined and crude oil tumbled.
The S&P 500 pared to 0.6 percent a loss that took it below 2,700 for the first time since July, while the Nasdaq Composite Index flirted with a correction before paring losses. Defensive sectors from consumer staples to real-estate firms recovered. Verizon and McDonald's advanced on solid results, while Netflix led gains in tech shares.
Industrial stocks remained under pressure after disappointing results from Caterpillar and 3M added to worries that rising costs will erode profit margins. The Russell 2000 Index erased gains for the year. Energy producers in the S&P 500 sank more than 2 percent. Texas Instruments reported disappointing results after the market closed.
"Today we opened down, basically at technical support at 2,700 on the S&P, 7,000 on the Nasdaq 100, this is kind of a picture-perfect day to buy," said Michael O'Rourke, JonesTrading's chief market strategist. "But now the question is how far does this rally get, how far does it go?"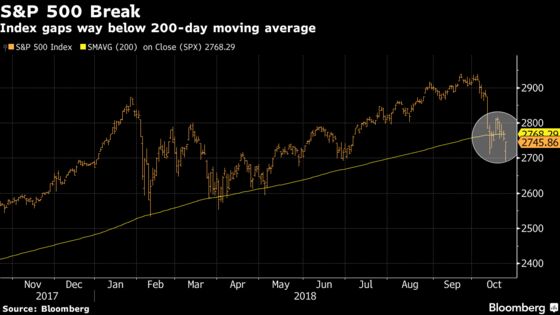 The afternoon rebound in American equities delivered a measure of calm for investor nerves frayed by a monthlong sell-off. U.S. growth data later in the week as well as earnings from companies including Amazon, Alphabet, Microsoft and Intel could be key to where equities go from here. In the meantime, uncertainty over the death of a Saudi journalist, Italy's budget and Brexit are among the factors weighing on sentiment.
The Stoxx Europe 600 Index slid to the lowest level since December 2016 and Asian equities teetered on the verge of a bear market. Some of the steepest losses were in Japan, Hong Kong and China, where shares had posted the biggest jump in more than two years a day earlier. Disappointing earnings from Renault and some European tech companies added to the pain in Europe.
Equities failed to get any reprieve after China announced fresh measures to ease the funding strains of private companies, as top officials seek to restore confidence in the world's second-largest economy.
"Trade tensions here are important, interest rate levels are important, but the next week or two, earnings will be important," said Matt Maley, equity strategist at Miller Tabak + Co. "The fact that some key multinationals are giving disappointing guidance is a problem."
Elsewhere, oil traded near the lowest in almost five weeks. Emerging-market equities slumped as Turkish President Recep Tayyip Erdogan said a team including Saudi generals conducted the killing of writer Jamal Khashoggi.
Terminal readers can read more in our Markets Live blog.
Here are some key events coming up this week:
Earnings season gathers pace with notable highlights including Twitter, UBS, Deutsche Bank, Barclays, Total, Halliburton and Linde.
Monetary policy decisions are due in Europe, Indonesia, Sweden and Canada.
ECB policy makers could on Thursday confirm that asset purchases will end this year, reiterating its pledge to keep interest rates at record lows through summer 2019. President Mario Draghi will hold a press conference.
U.S. gross domestic product growth may have slowed in the third quarter, yet remained near its best pace since mid-2015, according to forecasts ahead of Friday's release.
These are the main moves in markets:
The S&P 500 fell 0.6 percent to 2,740.69 as of 4:05 p.m. in New York, while the Dow Jones Industrial Average dropped 0.5 percent to 25,191.43 and the Nasdaq Composite Index eased 0.4 percent to 7,437.54.
The Stoxx Europe 600 fell 1.6 percent.
The U.K.'s FTSE 100 declined 1.2 percent.
Germany's DAX Index dropped 2.2 percent higher, the fifth straight decline.
The MSCI Emerging Market Index dipped 2.1 percent.
The MSCI Asia Pacific Index slumped 2.2 percent.
The Bloomberg Dollar Spot Index dropped 0.2 percent.
The euro gained 0.1 percent to $1.1470.
The British pound rose 0.2 percent to $1.2984.
The Japanese yen strengthened 0.4 percent to 112.40 per dollar.
The yield on 10-year Treasuries dropped three basis points to 3.17 percent, while the two-year note yield fell three basis points to 2.87 percent.
Germany's 10-year yield fell four basis points to 0.41 percent.
West Texas Intermediate crude slumped 4.2 percent to $66.26 a barrel, the first drop in three days.
Gold gained 0.7 percent to $1,230.45 an ounce.