Stocks Close Higher After Whipsawing Investors: Markets Wrap
(Bloomberg) -- Stocks closed higher after whipsawing investors through the day amid the ongoing debate over the outlook for global growth. The dollar's six-day rally stalled and crude oil dropped after an earlier increase.
The S&P 500, Dow and Nasdaq all turned green in the last hours of trading. Stock had initially rallied in the wake of a spate of better-than-forecast quarterly earnings from IBM, Procter & Gamble and United Technologies before dropping into the red. White House Council of Economic Advisers Chairman Kevin Hassett said that if the partial government shutdown extends through March, there's a chance of zero economic expansion this quarter, though "humongous" growth would follow once federal agencies reopen.
"It's a long list of headwinds and the interesting thing is that none of them seem to be abating," said Michael O'Rourke, JonesTrading's chief market strategist.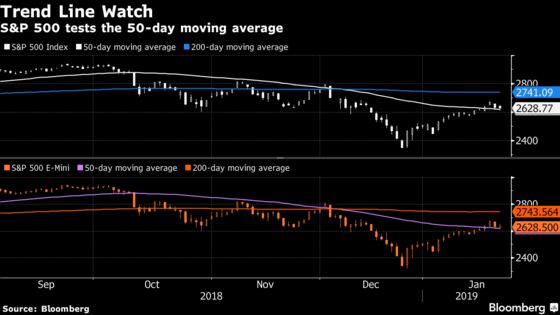 Doubts over foreign trade and politics continue to permeate global markets. White House adviser Lawrence Kudlow said late Tuesday that negotiations between the U.S. and China next week will be "determinative," leaving traders on edge about the prospects for a deal. Meanwhile, the Senate is set to vote Thursday on legislation to reopen the government, though it's not clear that any measures will pass.
"The broader concern that I think will continue to creep in here is, leaving trade aside, is how weak is global growth? How weak is China's growth?" said Liz Ann Sonders, chief investment strategist at Charles Schwab & Co.
Elsewhere, WTI oil retreated after climbing above $53 a barrel. The pound strengthened for a third day after signs emerged that the U.K. Parliament is moving closer to a plan for delaying Brexit. The yen slid as the Bank of Japan cut its inflation outlook.
These are some events investors will be watching out for in the coming days:
Earnings season is in full swing: Texas Instruments and Ford are among companies posting results this week.
The World Economic Forum, the annual gathering of global leaders in politics, business and culture, continues in Davos, Switzerland.
There are monetary-policy decisions for the Bank of Korea and the European Central Bank, both Thursday.
And these are the main moves in markets:
The S&P 500 Index rose 0.2 percent to 2,638.70 as of 4:04 p.m. New York time, while Nasdaq Composite Index gained 0.1 percent to 7,025.77 and the Dow Jones Industrial Average rose 0.7 percent to 24,575.62.
The Stoxx Europe 600 Index fell 0.1 percent.
The U.K.'s FTSE 100 Index dipped 0.9 percent.
Germany's DAX Index fell 0.2 percent.
The MSCI Emerging Market Index rose 0.2 percent.
The Bloomberg Dollar Spot Index fell 0.3 percent, the first drop in seven days.
The euro rose 0.2 percent to $1.1383.
TheBritish pound increased 0.9 percent to $1.3068, the third straight gain.
The Japanese yen weakened 0.2 percent to 109.60 per dollar, the first drop in three days.
The yield on 10-year Treasuries rose less than one basis point to 2.75 percent.
Germany's 10-year yield fell one basis point to 0.22 percent, the third straight decline.
Britain's 10-year yield rose less than one basis point to 1.33 percent.
West Texas Intermediate crude fell 0.2 percent to $52.60 a barrel, after initially gaining as much as 2 percent.
Gold fell 0.2 percent to $1,283 an ounce.