Stocks Eke Out Gain Amid Doubt on Stimulus Timing: Markets Wrap
(Bloomberg) -- U.S. stocks eked out a third straight gain, though finished well off session highs after Senator Mitch McConnell cast doubt on reaching a fresh rescue bill before some current benefits expire.
The S&P 500 rode a rally in energy and financial stocks to a fresh four-month high. Its advance was checked when the Senate majority leader told Politico he doesn't expect a bill to pass within two weeks. Stocks were higher for most of the session after European Union leaders clinched a rescue package. That also sent the euro to the highest since 2019.
"We are very likely getting a deal, but we should also expect dramatic headlines and the volatility associated with them," said Dennis DeBusschere, a strategist at Evercore ISI.
Tech shares led declines a day after the biggest rally since April. Corporate earnings and positive vaccine news had boosted sentiment. Texas Instruments reported earnings after the close. Oil surged, lifting Exxon Mobil and Chevron in the Dow Jones Industrial Average.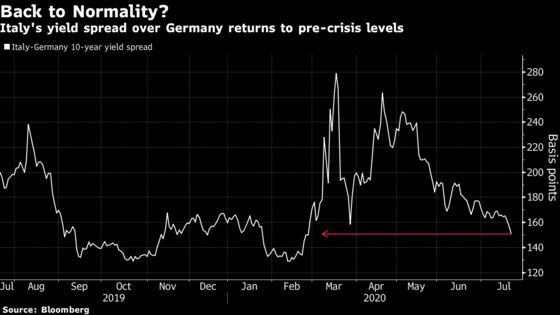 The Nasdaq 100 edged lower after closing at an all-time high, with investors awaiting a spate of megacap tech earnings later this week. The gauge has surged 25% in 2020, in large part to a meteoric advance in Amazon.com Inc., which added $117 billion to its market value just on Monday.
Nasdaq 100 Momentum Is Hottest in 20 Years on Amazon: Chart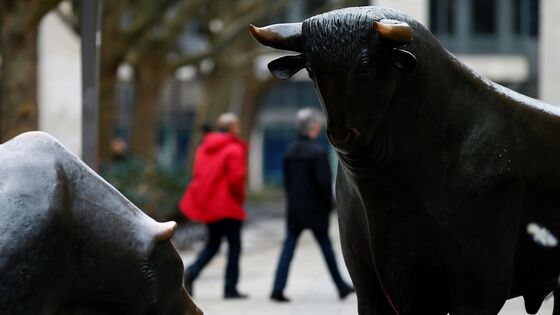 Here are some key events coming up:
Quarterly earnings gather steam, with reports due from Microsoft, Blackstone Group, Roche, Intel, Unilever, Canadian Pacific, Tokyo Steel, Daimler, Hyundai and Mattel.
The EIA crude oil inventory report is due Wednesday.
U.S. weekly jobless claims come on Thursday.
These are the main moves in markets:
The S&P 500 Index rose 0.2% as of 4 p.m. New York time.
The Nasdaq 100 Index fell 1.1%.
The Stoxx Europe 600 Index increased 0.3%.
The MSCI Emerging Market Index increased 2.1%.
The Bloomberg Dollar Spot Index declined 0.7%.
The euro rose 0.6% to $1.1521.
The British pound gained 0.6% to $1.2732.
The Japanese yen strengthened 0.4% to 106.80 per dollar.
The yield on 10-year Treasuries slipped to 0.60%.
The two-year rate fell to 0.139%
Germany's 10-year yield rose less than one basis point to -0.46%.
Britain's 10-year yield dipped less two basis points to 0.136%.
West Texas Intermediate crude increased 2.8% to $41.96 a barrel.
Silver strengthened 5.2% to $20.94 per ounce.
Iron ore rose 1.9% to $108.02 per metric ton.