A $5 Trillion Asia Equity Loss Still Has Two Months to Play Out
(Bloomberg) -- Nov. 1, 2018. We are now two months away from the end of the year, and half of the major Asian stock markets are down about 10 percent or more. Some have entered bear markets and in total, more than $5 trillion in market value has been wiped out in 2018.
With about 40 trading days left, whether bulls or bears will win is anyone's guess, but bracing for more volatility could perhaps be a smart move. The MSCI Asia Pacific Index gained for a third straight day -- a streak not seen in six weeks -- and for now, it looks like "shock-tober" hasn't seeped into November.
Thursday's boost came from China: the nation's leadership signaled that further stimulus measures are being planned, as disappointing economic data showed that the current piecemeal approach isn't working. Chinese shares rallied earlier in both domestic markets and Hong Kong, but the Shanghai Composite Index reversed most of the gain and closed a mere 0.1 percent higher. The yuan advanced after the central bank set the fixing at a stronger-than-expected level. The Hang Seng Index closed 1.8 percent higher.
Peter So isn't convinced that the rally will last for long. "The rebound may even last four or five days, but the upside will be limited," the head of research at CCB International in Hong Kong said by phone. Earnings estimates have decreased in the U.S., Hong Kong and other Asian countries, and an increase in U.S. Treasury yields may also cap the future magnitude of the market rebound, he said.
And one more thing to throw some shade to the optimism out there is: manufacturing gauges for some of Asia's most export-driven economies slipped into negative territory in October, highlighting the spillover effect from the U.S.-China trade war.
Still, a three-day rise in the regional benchmark, which is poised for its first weekly gain in six, is worth watching. First some other reasons for the advance on Thursday:
Thanks to technology shares, the U.S. stock market ended the last day of October higher, with all major indexes rising at least 1.4 percent.
The Caixin China manufacturing PMI for October came in at 50.1, slightly better than the estimate of 50.
Singapore's Straits Times Index rallied after OCBC reported a 12 percent increase in profit for the third-quarter.
The one anomaly Thursday is Japan. NTT Docomo Inc.'s decision to cut rates triggered a $34 billion rout in the country's top three mobile carriers and dragged down the Nikkei 225 Stock Average 1.1 percent lower. KDDI Corp., a rival of Docomo, later said the company won't follow the price cuts.
The Philippines is closed for a two-day holiday.
So what should investors look out for over the next two months? The big ones would be the U.S. mid-term election results due Nov. 6 and, later this month, President Donald Trump and Chinese Premier Xi Jinping are due to hold talks on the sidelines of a Group of 20 summit in Argentina to discuss the long-lasting trade issues.
Other major events for the rest of the year:
Alibaba Group Holding Ltd. will hold its "largest-ever" Singles' Day sale on Nov. 11. There's also Black Friday in the U.S., which could give consumer stocks a boost.
The ongoing trade war concerns haven't subsided. The U.S. is preparing to announce by early December tariffs on all remaining imports from China if talks between presidents Trump and Xi at the G-20 meeting fail to ease the trade war.c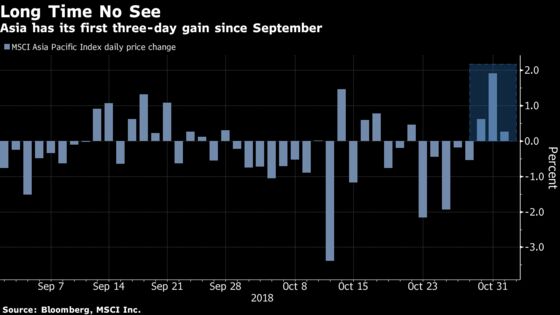 And here are some notable movers:
Docomo Plunges Most in Decade on Price Cut Plan; KDDI Tumbles
Hokkaido Elec. 3Jumps as Hydropower Seen Absorbing Quake Costs
AMP Extends Rebounds After Portfolio Update, Takeover Talk
BHP Billiton Surges Most in Two Years on Buyback Plans
OCBC Jumps After Profit Beats Forecast on Lending Gains
Japan's Topix index down 0.9%; Nikkei 225 down 1.1%
Hong Kong's Hang Seng Index up 1.8%; Hang Seng China Enterprises up 1.4%; Shanghai Composite up 0.1%
Taiwan's Taiex index up 0.4%
South Korea's Kospi index down 0.3%; Kospi 200 down 0.4%
Australia's S&P/ASX 200 up 0.2%; New Zealand's S&P/NZX 50 up 1%
India's S&P BSE Sensex Index up 0.3%; NSE Nifty 50 up 0.3%
Singapore's Straits Times Index up 1.4%; Malaysia's KLCI down 0.1%; Jakarta Composite down 0.1%; Thailand's SET up 0.1%; Vietnam's VN Index down 0.7%