Asian Stock Index Enters Correction on Inflation, Virus Woes
(Bloomberg) -- Asian stocks slumped Thursday, with the regional benchmark entering a technical correction, as mounting worries over inflation and a resurgence in Covid-19 cases soured investor sentiment.
The MSCI Asia Pacific Index slumped 1.8%, taking its loss from a Feb. 17 peak to more than 10% and wiping out its gain for the year. Asian equities tracked losses in American shares after data on Wednesday showed U.S. consumer prices climbed in April by the most since 2009.
"We need to kind of price in a more normal interest-rate environment, more normal inflation environment," said Ken Peng, head of Asia investment strategy at Citigroup Inc.'s private-banking arm. "The shake up could last a while longer. But I'm still not too worried because growth will come back to be the most important element once interest rates normalize."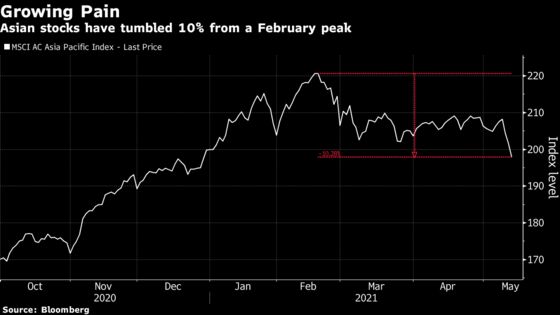 The selloff in Asia is part of this week's rout in global equities as an explosive rally in commodity prices threatens to push up inflation. The region is also battling a fresh surge in coronavirus infections in several countries including India, Japan and parts of Southeast Asia, with slow vaccine rollouts and delays in reopening borders compounding concerns for equity investors.
Tech stocks, which have been at the forefront of the recent slump, were the biggest drag on the Asian gauge Thursday. While the sector globally is having to contend with higher U.S. bond yields and stretched valuations, sentiment in Asia has also been hurt by regulatory tightening in China.
Seasonality also seems to be playing a role. May has historically been the worst month for the MSCI Asia Pacific Index, with the benchmark averaging a 2% decline over the past 10 years, according to data compiled by Bloomberg. It is already down 4.1% so far this month.
As a result, regional stocks are sharply underperforming their peers in the U.S. and Europe in 2021 after leading global equity gains last year. While the Asian benchmark is now down 1% year-to-date, the S&P 500 Index and the Stoxx 600 Index are both up more than 9%.
"I suppose there's the worry now we've hit something of a short-term peak for equity valuations in Asia," said Kyle Rodda, an analyst at IG Markets Ltd. in Melbourne.
There are a few headwinds sapping the appeal for Asian equities, he said. "Fed tightening is obviously a pressing concern right now -- being, technically speaking, quite EM sensitive, tighter financial conditions globally are a worry. Also, there's the creeping concern that China's economy is plateauing, meaning growth in the region is practically discounted."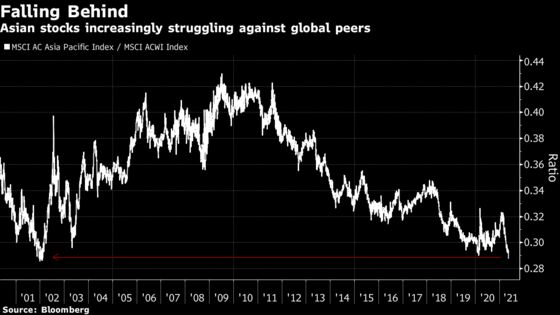 Chinese shares snapped a two-day winning run on Thursday while stocks in Japan declined for a third day. Markets in Singapore, India, Indonesia, Malaysia and the Philippines were shut for a holiday.
In Taiwan, the benchmark stock index extended losses after slumping the most since March last year on Wednesday partly due to concern over tightening of virus-linked restrictions.
Recent fund flows suggest interest from global investors in Asian stocks is also lagging that in other regions. Since the beginning of the second quarter, more than $36 billion has flowed into North American and European equity funds compared with just $2 billion into Asian ones, according to a May 7 report from EPFR.