Asian Stock Markets Fall. And There's a Slew of Reasons Why
(Bloomberg) -- Most major stock markets across the region slipped Monday as a plethora of geopolitical reasons created a risk-off sentiment for investors.
Here's a list of some of the factors that helped pushed stocks lower in Asia:
What's for sure is that volatility has come back with a vengeance. Monday's 1.1 percent decline in the MSCI Asia Pacific Index takes its average daily fluctuation for October to 1 percent, the biggest since February 2016. The gauge has moved more than 0.5 percent on a single session nine times this month -- or 82 percent of the days -- the highest proportion since June 2012.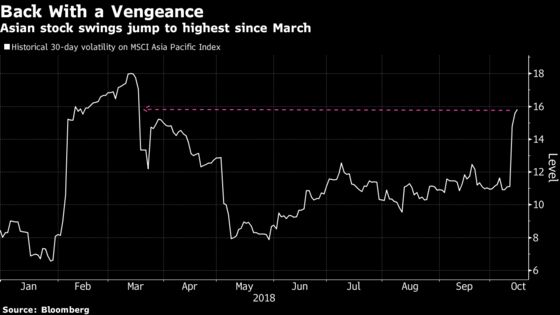 Markets in China, Japan, Hong Kong, Taiwan, Vietnam and Australia fell by at least 1 percent, while those in South Korea and Singapore declined more than 0.5 percent. Nine out of 10 sub-gauges in the regional benchmark slid, with energy stocks rising as the price of oil climbed amid the U.S.-Saudi Arabia tensions. Thailand is closed for a holiday.
Japan's Topix index down 1.6%; Nikkei 225 down 1.9%
Hong Kong's Hang Seng Index down 1.4%; Hang Seng China Enterprises down 1.5%; Shanghai Composite down 1.5%
Taiwan's Taiex index down 1.4%
South Korea's Kospi index down 0.8%; Kospi 200 down 0.8%
Australia's S&P/ASX 200 down 1%; New Zealand's S&P/NZX 50 down 0.1%
India's Sensex down 0.1%, Nifty 50 down 0.2%
Straits Times Index down 0.7%, Malaysia's KLCI down 0.1%, Jakarta Composite Index down 0.4%, Philippine Stock Exchange PSEi Index down 1.1%, Vietnam's VN-Index down 1.9%