Stocks Pare Gains as Virus Angst Offsets Jobs Data: Markets Wrap
(Bloomberg) -- U.S. stocks pared gains on speculation that a second wave of coronavirus cases could jeopardize an economic rebound from the sharpest contraction on record.
The S&P 500 came off session highs amid a slump in trading volume ahead of a holiday on news that U.S. virus cases had the biggest increase since May 9. Earlier, Florida reported that infections and hospitalizations jumped the most ever, and Houston had a surge in intensive-care patients. The figures offset data showing payrolls rose by 4.8 million in June after an upwardly revised 2.7 million gain in the prior month.
"Going into the long weekend, why have an extreme bullish position?" Ed Clissold, chief U.S. strategist at Ned Davis Research, told Bloomberg TV. "We should think of the market in terms of a trading range environment around 3,000 and 3,200. When it looked earlier today, it became clear the market wasn't going to break out, the rally lost steam." The S&P 500 closed at 3,130.01.
The U.S. labor market made greater progress than expected last month digging out of a deep hole, yet optimism over the rebound was tempered by stubbornly high layoffs and a resurgent coronavirus outbreak across the country. President Donald Trump still said the report shows the economy is "roaring back." Massive monetary and fiscal policy stimulus helped lower borrowing costs and keep the financial system liquid in a time of stress -- while propelling the stock market higher.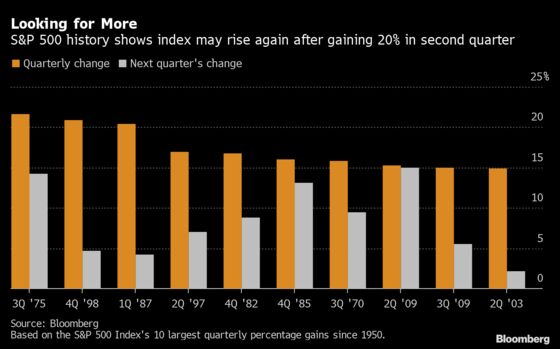 "There's still a general positive sentiment about how quickly we're seeing the recovery," said Chris Gaffney, president of world markets at TIAA Bank. "But we do think you're going to see the recovery level off, especially if we continue to see higher case numbers on the virus."
Investors also assessed remarks from White House Economic Adviser Larry Kudlow, who told Fox Business Network that "we are very unhappy with China" and "there are going to be export restrictions."
U.S. stocks are poised to rise this quarter if history is any guide, according to Keith Lerner, chief market strategist at SunTrust Private Wealth Management. Lerner cited the S&P 500's track record after its biggest quarterly gains since 1950 in a report Tuesday. The gains ranged from 15% to 22%, in line with last quarter's 20% increase, according to data compiled by Bloomberg. In each case, the S&P 500 rose in the following quarter. The average advance was 8.4%.
These are some of the main moves in markets:
The S&P 500 gained 0.5% as of 4 p.m. New York time.
The Dow Jones Industrial Average increased 0.4%.
The Nasdaq Composite Index advanced 0.5%.
The Stoxx Europe 600 Index added 2%.
The MSCI Asia Pacific Index increased 1.7%.
The Bloomberg Dollar Spot Index declined 0.1%.
The euro fell 0.1% to $1.124.
The Japanese yen weakened 0.1% to 107.53 per dollar.
The yield on 10-year Treasuries declined one basis point to 0.67%.
Germany's 10-year yield sank three basis points to -0.43%.
Britain's 10-year yield fell three basis points to 0.186%.
The Bloomberg Commodity Index advanced 0.7%.
West Texas Intermediate crude advanced 1.2% to $40.29 a barrel.
Gold increased 0.5% to $1,788.30 an ounce.