Asian Currencies Recoup Losses in Fragile Rebound From Iran Risk
(Bloomberg) -- Less than 24 hours after a volley of Iranian missiles jolted global markets, emerging Asian currencies have regained their footing.
Regional currencies rallied Thursday, led by South Korea's won which jumped more than 1%, after the U.S. stepped back from further escalating a conflict that had sent investors scurrying for the safety of the yen and gold.
But, the gains could evaporate just as quickly. Sentiment remains hostage to geopolitical headlines as Washington and Tehran weigh the next move in a conflict that threatens the tentative economic recovery taking hold across Asia.
"There are still significant risks of a miscalculation in the Middle East, which cannot be totally discounted," said Chang Wei Liang, a macro strategist at DBS Bank Ltd. in Singapore. "While a search for yield looks to be underway, beware of geopolitical risks and fundamental re-alignments."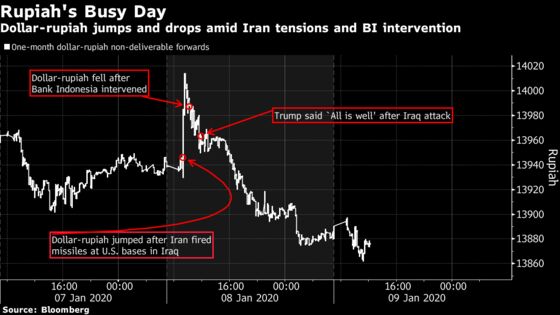 While U.S. President Donald Trump held out an olive branch to Tehran on Wednesday, he also warned of new sanctions on the nation. Iran's determination to pursue its nuclear ambitions could also touch off another confrontation.
For now, the hunt for yield and an imminent signing of a partial U.S.-China trade deal may be enough to keep risk-sentiment afloat.
Investors on Thursday piled back into the high-yielding currencies of Indonesia and India. The rupiah rose to its highest since June 2018, a day after its central bank said it was intervening to stop a slide.
"Funds need to be allocated to investment vehicles at the start of the year and investors may choose to look through some short-term uncertainties," said Frances Cheung, head of Asia macro strategy at Westpac Banking Corp. in Singapore. "As long as volatility does not shoot up, investors will probably go for yields."