U.S. Stocks Roar as Jobs Data Bolster Confidence: Markets Wrap
The rally in U.S. stocks picked up pace after the long-awaited jobs report boosted optimism in the world's largest economy.
The S&P 500 Index rose the most in a month as data showed the labor market can support growth without sparking inflation -- giving cover to the Federal Reserve's patient stance. The dollar fell and Treasuries were little changed. The Nasdaq-100 Index climbed to a new record as Tesla Inc. raised $2.35 billion through debt and stock offerings, while Warren Buffett told CNBC that Berkshire Hathaway Inc. has been buying Amazon.com Inc. shares.
Traders pushed up the value of risk assets after surprisingly strong payroll gains in April and the lowest unemployment rate since 1969 calmed some fears that a recession could be brewing. Meanwhile, the lack of a surge in wages kept alive speculation on Wall Street that the Fed will still be forced to ease policy. Earlier in the week, Chairman Jerome Powell pushed back on expectations that the next move would be a rate cut.
"We're in this Goldilocks world right now, where it's not too hot, it's not too cold and it seems just right," said Tom Plumb, a money manager at Plumb Balanced Fund in Madison, Wisconsin. "It's going to be a risk-on environment for stocks. People will put money in the stock market because there will be companies that will capitalize on world economic growth."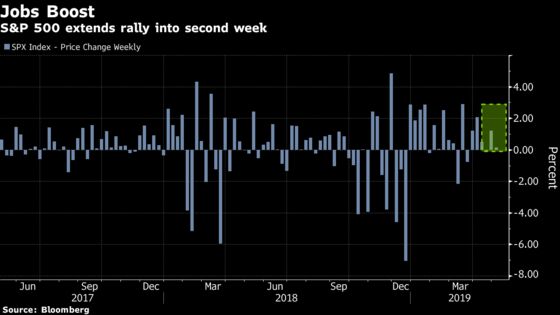 Two Federal Reserve officials laid out the case for a possible interest-rate cut just days after Powell said there was no reason to move rates in either direction. St. Louis Federal Reserve Bank President James Bullard and Chicago Fed President Charles Evans, both policy voters this year, expressed caution Friday over weak prices and said the central bank may have to act to lift inflation out of a persistently low trend.
With Friday's gains, the S&P 500 extended this year's surge to about 18 percent. Add Tom Lee to the growing list of strategists getting out in front of a rally that's quickly outrun their 2019 year-end targets. The co-founder of Fundstrat Global Advisors LLC boosted his prediction for the gauge to 3,125 from 2,925, citing earnings and the potential for investors to pay up for shares given lower bond yields.
Looking into next week, Chinese Vice Premier Liu He returns to Washington for another round of trade talks. The White House has ramped up pressure to reach an agreement, warning it could still walk away. President Donald Trump told reporters Friday the U.S. could complete a deal with China within a couple weeks. "And if it doesn't happen we'll be fine too," he said.
These are some of the main moves in markets:
The S&P 500 Index climbed 1 percent to 2,945.64 as of 4 p.m. New York time.
The Dow Jones Industrial Average added 0.8 percent, and the Nasdaq-100 jumped 1.6 percent.
The Stoxx Europe 600 Index rose 0.4 percent.
The MSCI Asia Pacific Index advanced 0.2 percent.
The Bloomberg Dollar Spot Index slipped 0.4 percent.
The euro advanced 0.3 percent to $1.1202.
The British pound jumped 1.1 percent to $1.3169.
The Japanese yen gained 0.4 percent to 111.10 per dollar.
The yield on 10-year Treasuries decreased two basis points to 2.53 percent.
Germany's 10-year yield declined one basis point to 0.03 percent.
Britain's 10-year yield increased three basis points to 1.219 percent.
The Bloomberg Commodity Index increased 0.2 percent.
West Texas Intermediate crude gained 0.2 percent to $61.94 a barrel.
Gold advanced 0.7 percent to $1,281.30 an ounce.