Stocks Fall; Treasury Yields Hit Eight-Week High: Markets Wrap
(Bloomberg) -- U.S. equities pulled back from the cusp of record highs as investors mulled the stalemate in stimulus negotiations and signs of an economic recovery. Treasury yields rose a fifth day and crude oil declined.
The S&P 500 fell 0.2% a day after surpassing the all-time closing high reached before the coronavirus pandemic. Energy, real estate and industrial sectors led the drop. Apple Inc. kept the Nasdaq Composite Index in positive territory, while Cisco Systems Inc. weighed on the Dow Jones Industrial Average. Trading volume was about 20% below the 30-day average. Adding to the uncertain outlook was a report showing that weekly jobless claims dropped below 1 million for the first time since March.
"The good news may be bad news now because that gives a little more uncertainty about the need for stimulus," said Chris Gaffney, president of world markets at TIAA Bank.
Gold resumed its advance and Treasury yields rose after the government sold a record amount of 30-year bonds. The dollar slipped against a basket of its peers.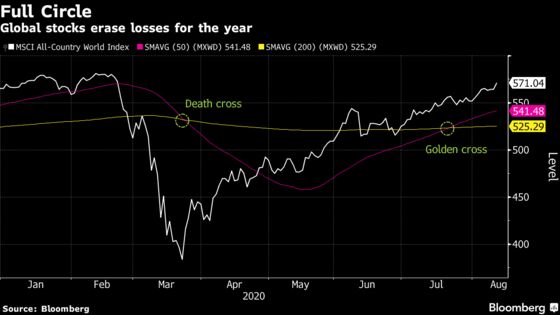 Stock markets in the U.S. and Asia have erased most of their losses triggered by the onset of the pandemic, though investors continue to bank on further fiscal stimulus. The concern is that government lifelines merely deferred even more unemployment.
"Investors assumed that a deal would get done in early August. Now that this is not happening, it raises some risks for the economy," said Matt Maley, chief market strategist at Miller Tabak & Co. "Therefore, investors are going back to focusing on what will work even if the economy sputters once again."
Meanwhile, Florida's governor warned that more Covid-19 virus deaths may be coming at nursing homes and assisted-living facilities. Germany recorded the highest number of new cases in more than three months, as cases also rose in France, Greece and Spain.
Here are some key events coming up:
China releases a slew of data for July on Friday, including industrial production and retail sales.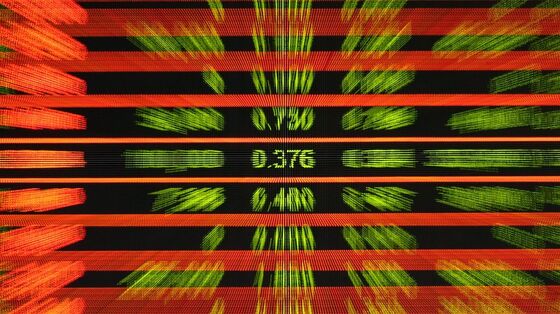 These are the market movers:
Stocks
The S&P 500 Index dipped 0.2% to 3,373.43 as of 4:01 p.m. New York time.
The Dow Jones Industrial Average fell 0.3% to 27,897.17.
The Nasdaq Composite Index gained 0.3% to 11,042.50, the highest in a week.
The MSCI All-Country World Index decreased 0.1% to 570.50.
Currencies
The Bloomberg Dollar Spot Index dipped 0.2% to 1,177.13, the lowest in a week.
The Japanese yen was little changed at 106.94 per dollar, reaching the weakest in more than three weeks on its fifth straight decline.
The euro gained 0.2% to $1.1809, the strongest in a week.
Bonds
The yield on 10-year Treasuries advanced four basis points to 0.71%, reaching the highest in more than seven weeks on its fifth straight advance.
Germany's 10-year yield increased four basis points to -0.41%, the highest in six weeks.
Britain's 10-year yield climbed one basis point to 0.243%, the highest in two months.
Commodities
West Texas Intermediate crude dipped 0.8% to $42.31 a barrel.
Gold strengthened 1.9% to $1,951.58 an ounce, the biggest climb in more than a week.
Silver strengthened 6.7% to $27.23 per ounce, the largest gain in a week.