Stocks' Sunny Finish Can't Make Up for Rocky Week: Markets Wrap
(Bloomberg) -- U.S. stocks finished the day higher as trade hopes rose, but they couldn't compensate for a rocky week in which the retail picture soured and technology shares languished. Treasuries advanced and the dollar retreated.
Equity markets have reacted swiftly to trade-related headlines in recent days as investors look for any hint that the threat of more tariffs will be removed, and the S&P 500 Index surged Friday after U.S. President Donald Trump appeared to signal a willingness to reach a deal with China at this month's G-20 summit.
But those gains were tempered by flagging consumer and retail shares. Department-store chain Nordstrom Inc. declined on disappointing results, following letdowns from Macy's Inc. and Dillard's Inc. Technology stocks wavered as chipmaker Nvidia Inc. had its worst trading day in a decade after issuing a lower-than-expected fourth-quarter outlook.
At the same time, California utilities PG&E Corp. and Edison International began to recover from steep losses brought on by the wildfires that swept the state. Energy firms also advanced as crude continued its rally after a record losing streak. All told, the S&P 500 fell 1.6 percent on the week.
"There's a lot of things that the market's wondering about with Trump's latest announcement on trade. It's obviously an unsettled issue and something that will continue to drive the markets for a few weeks," said Curtis Holden, senior investment officer at Tanglewood Total Wealth Management, who added: "You're seeing some anxiety, too, over Christmas spending, which is typical for this time of year."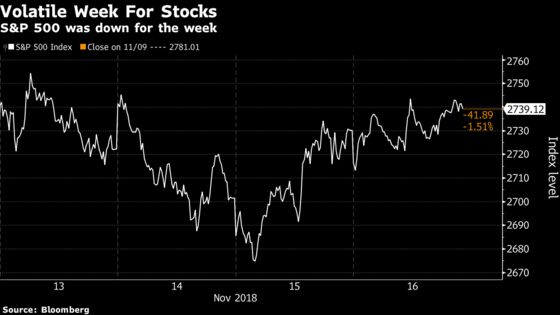 Equity markets remain volatile as the slowing Chinese economy and uncertain outlook for earnings coincide with investors' adjusting to the effects of tightening U.S. monetary policy. Political tensions in Europe -- from the U.K. to Italy -- are also hitting sentiment. Sterling advanced as investors grappled with Britain's political turmoil, while oil hovered around $57 a barrel in New York.
Some of the pressure on the dollar and bond yields followed remarks by Federal Reserve Vice Chairman Richard Clarida, who said on Friday that policy is getting close to neutral and there is some evidence of global slowing.
The British pound managed to rebound after posting the biggest drop in more than two years Thursday as several ministers resigned. Prime Minister Theresa May is defying demands to quit as her detractors plot a vote of no confidence over disquiet with her proposed Brexit deal.
The Stoxx Europe 600 Index had its worst week in three. Asian shares were led lower by declines in Japan, even as those in China and Hong Kong climbed. Emerging market stocks and currencies edged higher. Gold climbed alongside nickel and aluminum.
Terminal customers can read our Markets Live blog.
These are the main moves in markets:
The S&P 500 Index rose 0.2 percent as of 4 p.m. New York time.
The Stoxx Europe 600 Index declined 0.2 percent to the lowest in more than two weeks.
The U.K. FTSE 100 Index decreased 0.3 percent.
The MSCI Emerging Market Index increased 0.7 percent to the highest in more than a week.
The Bloomberg Dollar Spot Index declined 0.6 percent to the lowest in over a week.
The euro gained 0.8 percent to $1.1416, the strongest in more than a week.
The British pound advanced 0.4 percent to $1.2827.
The Japanese yen gained 0.7 percent to 112.81 per dollar, the biggest gain in four months.
The yield on 10-year Treasuries dipped four basis points to 3.07 percent, the lowest in more than six weeks.
Germany's 10-year yield climbed one basis point to 0.37 percent.
Britain's 10-year yield gained four basis points to 1.412 percent.
West Texas Intermediate crude increased 0.6 percent to $56.80 a barrel.
Gold increased 0.7 percent to $1,222.03 an ounce, the highest in more than a week.
LME copper gained 0.3 percent to $6,205.00 a metric ton.
The Bloomberg Commodity Index gained 1.3 percent.