S&P 500 Slips Into Correction Led by Energy Stocks: Markets Wrap
(Bloomberg) -- Stocks fell and the S&P 500 Index tumbled into a correction in shortened Black Friday trading as energy companies were battered with oil sliding below $51 a barrel, its lowest in a year. Crude's weakness on signs of oversupply also paced a broad retreat in commodities, and the dollar climbed with Treasuries.
All major equity benchmarks were lower. The S&P 500 Index had its worst Thanksgiving week performance since 1939, and is down 10 percent from its September high, the technical definition of a correction. Energy was by far the worst performing group on Friday, with companies like Devon Energy Corp. and Marathon Oil Corp. losing at least 4 percent. West Texas Intermediate crude slid 6.3 percent to $51.20 and is down 33 percent since hitting a four-year high of $76.41 last month.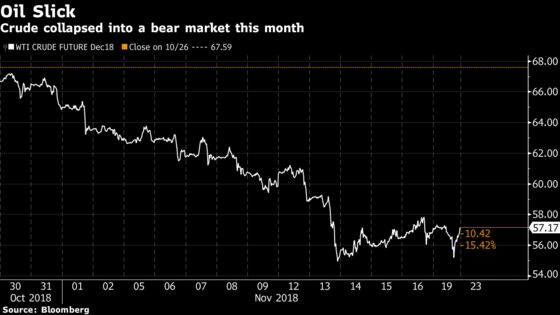 The break in petroleum prices only adds to the list of issues investors will be weighing this weekend -- from trade wars to the likelihood of the economic expansion continuing.
"There's a lot of uncertainty to still churn through," Noah Weisberger, chief U.S. strategist at AB Bernstein, said on Bloomberg TV. "I'm a little bit surprised, you know, going back to October that its taken the market as long as it has -- it still hasn't regained its footing."
Trading was very quiet, with volume more than 30 percent below average over the past 30 days. Stock markets closed early at 1 p.m. in New York. Bond markets shut at 2 p.m.
"It's a light volume day," said Chris Zaccarelli chief investment officer at the Independent Advisor Alliance. "I'm not going to read too much into it."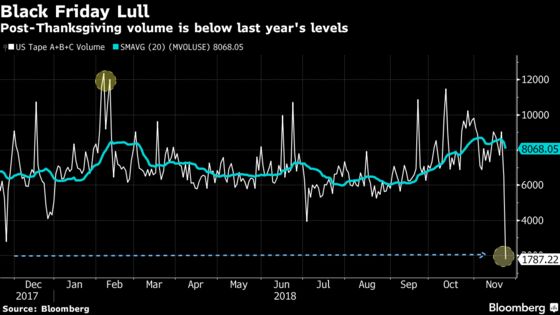 In Europe, sluggish mining shares pushed the Stoxx Europe 600 Index lower. The euro reversed earlier gains as data showed Germany's growth outlook weakened. The pound handed back much of Thursday's gains after Spain objected to part of the Brexit plan. Italian bonds led an advance in European debt markets.
Drops in oil, copper and other industrial raw materials set the Bloomberg Commodity Index on track for the biggest weekly decline since July. But falling commodity prices are just one of several indicators that reinforce investor concern about weakening global growth. Political turmoil in Europe, a lingering uncertainty over the Brexit agreement and a trade war that's engulfed the world's biggest economies add to nervousness.
Slowing growth is one of several prospects that may lead the Federal Reserve toward more caution in 2019 should it raise rates next month.
"The global economy is slowing down but we're slowing down from a pretty decent level," Jonathan Mackay, strategist at Schroder Fund Advisors, said on Bloomberg TV. "It's a little bit of 'reality bites' right now. The picture is still fine. It's just not as good as it was. And that's feeding into this technical unwind we're seeing in the oil market as well."
Terminal subscribers can read our Markets Live blog.
Elsewhere, a drop Chinese equities led regional declines in Asia, with the technology sector weak on concern the U.S. is ratcheting up a campaign against Huawei Technologies Co. Emerging market shares and currencies fell. And Bitcoin was on course for a 22 percent tumble this week.
Presidents Donald Trump and Xi Jinping plan to meet at the G-20 summit in Argentina next week.
Federal Reserve Vice Chairman Richard Clarida speaks in New York on Tuesday and Chairman Jerome Powell addresses the New York Economic Club on Wednesday.
Next Thursday sees the release of the minutes from the Federal Open Market Committee's November meeting.
European Central Bank President Mario Draghi will address the European Parliament's committee for economic and monetary affairs on Monday.
These are the main moves in markets:
The S&P 500 fell 0.7 percent to 2,632.56.
The Stoxx Europe 600 dipped 0.2 percent.
The MSCI All-Country World Index declined 0.5 percent.
The MSCI Emerging Market Index dropped 0.7 percent to the lowest in a week.
The Bloomberg Dollar Spot Index gained 0.3 percent.
The euro sank 0.6 percent to $1.1334.
The Japanese yen climbed 0.1 percent to 112.85 per dollar.
The British pound lost 0.6 percent to $1.2804.
The MSCI Emerging Markets Currency Index fell 0.2 percent.
The yield on 10-year Treasuries decreased two basis points to 3.039 percent, the lowest since September.
Germany's 10-year yield dipped three basis points to 0.34 percent.
Britain's 10-year yield retreated five basis points to 1.381 percent.
The Bloomberg Commodity Index declined 1.7 percent to the lowest since July.
West Texas Intermediate crude sank 6.3 percent to $51.17 a barrel, the lowest in 13 months.
Gold fell 0.4 percent to $1,223.48 an ounce.