Stocks Hold On To Trade Optimism Gains; Oil Falls: Markets Wrap
(Bloomberg) -- Want the lowdown on European markets? In your inbox before the open, every day. Sign up here.
U.S. equities managed to hold on to early gains and close at the highest levels in almost four months after President Donald Trump postponed the date for boosting tariffs on Chinese imports, taken as a sign of progress in the trade talks. Bonds yields rose and oil retreated.
After reaching session highs early in the trading day, the S&P 500 drifted lower amid a slide in utilities, real estate and consumer staples, before closing in the green. European and Asia stocks rallied earlier. General Electric shares soared after the company agreed to sell its bio-pharma business for a total consideration of $21.4 billion.
In Asia, the Shanghai Stock Exchange Composite Index rallied the most since 2015 and the yuan strengthened after Trump said he will delay the March 1 trade deadline, and as comments from China President Xi Jinping suggested top officials will focus on growth rather than cracking down on leverage. Emerging-market currencies and shares advanced despite China's state-run Xinhua news agency later publishing a commentary saying talks will be harder at the final stage.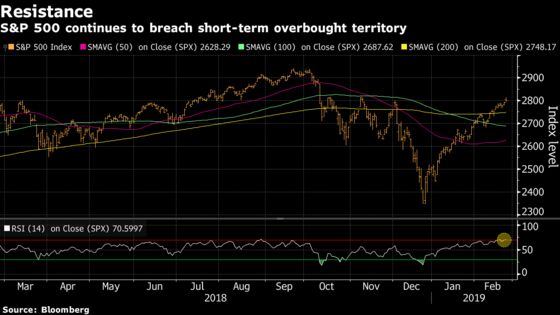 "The reality is there was enough pain created that caused both the Trump administration and President Xi and his administration basically to say, 'we have to come to an agreement,"' said Nathan Thooft, Manulife Asset Management's head of global asset allocation. "There's no doubt the interaction and the fact that they're actually speaking and seem to be progressing is being viewed as a positive in the market."
The official delay from the U.S. may give fresh impetus to extend a global rally in equities that was being tested amid an uncertain future on global trade and forecasts for global economic growth to ebb. Also in focus this week will be a hearing from Federal Reserve Chairman Jerome Powell, where investors will get the latest read on monetary policy.
Trump said the trade talks were productive. "The U.S. has made substantial progress in our trade talks with China on important structural issues including intellectual property protection, technology transfer, agriculture, services, currency, and many other issues," he said in a Twitter posting on Sunday evening.
Elsewhere, crude oil fell after Trump said in a tweet that prices were too high, while copper held on to gains over Chinese optimism. Gold was little changed, with Newmont Mining climbing on a hostile bid from rival Barrick Gold. The pound was little changed versus the euro as U.K. Prime Minister Theresa May pushed back the deadline for Parliament to vote on her Brexit deal.
Here are some key events coming up:
Fed Chairman Jerome Powell delivers semiannual testimony on monetary policy and the state of the economy over two days to House and Senate committees.
U.K. Prime Minister Theresa May updates the House of Commons on Brexit talks as the March 29 deadline nears for Britain to leave the EU. Lawmakers will vote on Feb. 27.
President Donald Trump and North Korea leader Kim Jong Un are expected to meet for a second summit beginning on Tuesday.
Thursday brings fourth quarter U.S. GDP.
These are the main moves in markets:
The S&P 500 Index rose 0.1 percent as of 4:05 p.m. New York time, while the Nasdaq Composite Index added 0.4 percent and the Dow Jones Industrial Average gained 0.2 percent.
The Stoxx Europe 600 rose 0.3 percent, reaching the highest level in almost 20 weeks.
The MSCI Emerging Market Index rose 0.9 percent, the sixth straight increase.
The MSCI Asia Pacific Index gained 0.8 percent, hitting the highest in more than 20 weeks with its sixth straight advance.
The Bloomberg Dollar Spot Index fell less than 0.1 percent, after reaching the lowest level in almost three weeks.
The euro gained 0.2 percent to $1.1362.
The British pound strengthened 0.4 percent to $1.3102.
The MSCI Emerging Markets Currency Index rose 0.4 percent, touching the highest in more than three weeks.
The yield on 10-year Treasuries climbed two basis points to 2.67 percent.
Germany's 10-year yield rose one basis point to 0.11 percent.
Britain's 10-year yield increased two basis points to 1.18 percent.
West Texas Intermediate fell 3.4 percent to $55.34 a barrel, the first drop in nine sessions.
Gold dropped less than 0.1 percent to $1,328 an ounce.
The Bloomberg Commodity Index declined 1 percent, the first retreat in more than a week.