U.S. Stocks Rise; Pound Gains on Brexit Deal: Markets Wrap
(Bloomberg) -- U.S. stocks rose for a second day in holiday-shortened trading as investors monitored the latest developments on the congressional aid package, while the pound strengthened after a post-Brexit trade accord agreement was reached.
Technology and real estate shares led the S&P 500 led higher, with energy the only one of the benchmark index's 11 sector groups to finish in the red. A scuffle over pandemic relief is set to run up against a federal funding deadline next week as Democrats side with President Donald Trump in his demand for $2,000 payments to most Americans. The dollar weakened and Treasury yields were little changed.
Alibaba Group Holding's U.S.-listed shares tumbled the most ever on concern over China's inquiry into alleged monopolistic practices at the e-commerce company. Volumes were subdued in many countries on Thursday. Most financial markets will be closed Friday for Christmas.
"The market is in autopilot mode at least until the end of year, which has positive indications for a Santa Clause rally," said Sam Stovall, chief investment strategist at CFRA Research.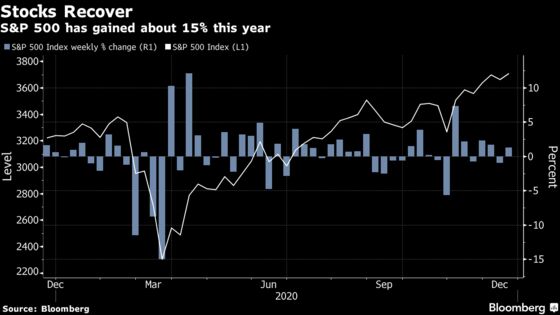 The pound strengthened for a second day and the Stoxx 600 Index edged higher after the U.K. clinched a historic trade deal with the European Union, averting the threat of an acrimonious breakup and laying the foundations for a new relationship with its biggest and nearest commercial partner.
"Right now we have a lot of animal spirits surging into year end," Michael Purves, founder and CEO at Tallbacken Capital Advisors, said on Bloomberg TV. "As constructive as I am on markets in the broader term, I do expect there will be a hangover of sorts to process this over-extension some time later this winter."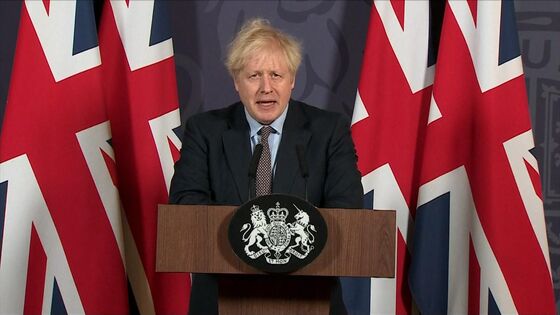 These are the main moves in markets:
Stocks
The S&P 500 Index rose 0.4% to 3,703.06 as of 1;20 p.m. New York time, the largest advance in a week.
The Dow Jones Industrial Average increased 0.2% to 30,129.83.
The Nasdaq Composite Index rose 0.2% to 12,771.11.
The Stoxx Europe 600 Index climbed 0.1% to 395.98, the highest in a week.
Currencies
The Bloomberg Dollar Spot Index dipped 0.1% to 1,126.21.
The euro was little changed at $1.2183.
The British pound rose 0.3% to $1.3538, the strongest in a week.
The Japanese yen depreciated 0.1% to 103.68 per dollar, the weakest in more than a week.
Bonds
The yield on 10-year Treasuries fell two basis points to 0.92%, the largest drop in two weeks.
Germany's 10-year yield gained five basis points to -0.55%, reaching the highest in more than three weeks on the first advance in a week and the biggest climb in more than six weeks.
Britain's 10-year yield dipped three basis points to 0.257%.
Commodities
West Texas Intermediate crude climbed 0.2% to $48.22 a barrel.
Gold strengthened 0.4% to $1,879.96 an ounce.