U.S. Stocks Rally as Day-Trading Frenzy Collapses: Markets Wrap
(Bloomberg) -- Stocks posted a back-to-back rally as the trading frenzy that fueled a surge in heavily shorted shares crumbled. Investors also sifted through a batch of corporate earnings.
After the close of regular trading, both Alphabet Inc. and Amazon.com Inc. reported better-than-estimated revenue, with the online-retail giant saying Chief Executive Officer Jeff Bezos will step down from his post. All major groups in the S&P 500 rose on Tuesday, with financial and industrial companies leading the charge. United Parcel Service Inc. climbed as the courier reported a surge in profit, while Exxon Mobil Corp. rose on a pledge to safeguard dividends. Meanwhile, the speculative trades popular with Reddit crowds crumbled, with GameStop Corp. and AMC Entertainment Holdings Inc. tumbling at least 41% as silver sank from an eight-year high.
The collapse of those trades that roiled the stock market last month has coincided with a sharp reduction in short interest after bearish investors appeared to cover their positions. While some indicators show the battle between Redditors and hedge funds may not be over, analysts cited a sense of more stability and diminished concern over contagion from any retail bubble as reasons for the equity rebound.
"There's optimism brewing underneath," said Megan Horneman, director of portfolio strategy at Verdence Capital Advisors. "The fact that markets have cooled down a bit with the retail-trading frenzy, that's giving a little bit of optimism. Anytime there's more stability to markets, there's a breath of relief of all investors."
She also cited prospects for more fiscal stimulus as another reason for the positive mood. The Senate on Tuesday will begin a process that would let Democrats pass President Joe Biden's $1.9 trillion proposal without Republican votes, Majority Leader Chuck Schumer said.
As stocks continued to push higher, Bank of America Corp. strategists came out with a warning about rising bullishness, saying that a sentiment indicator is close to hitting a "sell" signal -- a mark last reached shortly before the financial crisis. Meanwhile, Citigroup Inc. is growing concerned with elevated earnings expectations, noting that share prices may be ahead of themselves by about 10%.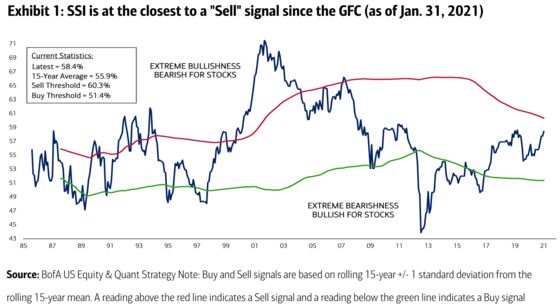 These are some key events coming up:
The EIA crude oil inventory report is due Wednesday.
The Bank of England sets rates on Thursday, and an Indian central bank policy decision comes then too.
The U.S. January payrolls report is due Friday, providing a first look at hiring in 2021.
These are the main moves in markets:
The S&P 500 increased 1.4% as of 4 p.m. New York time.
The Stoxx Europe 600 Index climbed 1.3%.
The MSCI Asia Pacific Index rose 1.2%.
The Bloomberg Dollar Spot Index decreased 0.1%.
The euro dipped 0.2% to $1.2036.
The Japanese yen depreciated 0.1% to 105.04 per dollar.
The yield on 10-year Treasuries rose two basis points to 1.10%.
Germany's 10-year yield rose three basis points to -0.49%.
Britain's 10-year yield increased three basis points to 0.349%.
West Texas Intermediate crude climbed 2.3% to $54.77 a barrel.
Gold lost 1.3% to $1,835.66 an ounce.
Silver slid 8.9% to $26.47 per ounce.