U.S. Stocks Slump Before Key Earnings as Oil Gains: Markets Wrap
(Bloomberg) -- Sign up for our new China newsletter, a weekly dispatch coming soon on where China stands now and where it's going next.
U.S. equities edged lower as investors weighed the latest corporate earnings and the chances of a trade breakthrough between the world's biggest economies.
Technology shares dragged the S&P 500 Index down, with Twitter, Facebook and chipmakers leading losses ahead of earnings by Apple and AMD after the bell. Industrial companies fared better as 3M Co. struck an optimistic tone and reported profit that beat estimates. Treasuries edged higher with the dollar. Crude rose as the U.S. put a de facto ban on Venezuelan oil. The British pound weakened after lawmakers voted for Prime Minister Theresa May to renegotiate the Brexit withdrawal agreement with Brussels.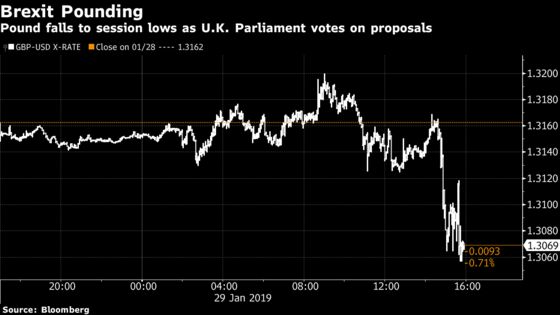 After a robust start to the year for equities, investors are looking for direction from a corporate earnings season that's been indecisive so far. Chinese Vice Premier Liu He arrived in Washington for what the White House is describing as "very, very important" trade talks this week. Against the backdrop of U.S.-China stress and geopolitical tensions in Venezuela, traders they also need to navigate the Federal Reserve rate decision, developments in the U.K.'s Brexit process and a potential slew of American economic data that was delayed by the government shutdown.
"You have Brexit, you have the U.S.-China trade and you have the Federal Reserve, and so I think there's some hope that each and every one of those is moving toward some sort of resolution that the market can hang its hat on," said Brent Schutte, the chief investment strategist at Northwestern Mutual Wealth Management Co. "There's going to be some back and forth and probably not a lot of conviction as we await to see what happens."
Elsewhere, almost all sectors climbed in the Stoxx Europe 600. Asian technology stocks underperformed after U.S. prosecutors filed criminal charges against Huawei Technologies Co., China's largest smartphone maker. Emerging-market shares climbed and gold touched the highest level since May.
Among key events in the coming days:
Chinese President Xi's top economic aide, Vice Premier Liu He, will meet with U.S. Trade Representative Robert Lighthizer and Treasury Secretary Steven Mnuchin on Wednesday and Thursday.
Tech giants Microsoft, Facebook, Alibaba, Qualcomm, Tesla, Samsung and Sony announce earnings.
The EU Parliament debates Brexit on Wednesday.
Wednesday Fed Chairman Jerome Powell holds a news conference after the FOMC rate decision.
These are the main moves in markets:
The S&P 500 Index fell 0.1 percent as of the close of trading in New York.
The Stoxx Europe 600 Index gained 0.8 percent.
The Nikkei-225 Stock Average climbed 0.1 percent.
The MSCI Emerging Market Index gained 0.1 percent.
The Bloomberg Dollar Spot Index rose 0.1 percent.
The euro rose 0.1 percent to $1.1436.
The Japanese yen was little changed at 109.33 per dollar.
The British pound fell 0.6 percent to $1.3163.
The yield on 10-year Treasuries sank three basis points to 2.71 percent.
Germany's 10-year yield was little changed at 0.20 percent.
Britain's 10-year yield was little changed at 1.26 percent.
The Bloomberg Commodity Index increased 0.8 percent.
West Texas Intermediate crude gained 2.3 percent to $53.17 a barrel.
Copper gained 1.5 percent to $2.7195 a pound.
Gold climbed 0.6 percent to $1,311.23 an ounce, the highest since May.