U.S. Stocks Weather Witching to Post Weekly Gain: Markets Wrap
(Bloomberg) -- U.S. stocks dropped from early session highs to cap a record-breaking week with something of a whimper. Declines in tech giants including Apple Inc., Amazon.com Inc. and Facebook Inc. dragged on benchmarks as quarterly rebalancing spurred trading.
The S&P 500 Index broke its three-day win streak but still notched a second positive week in a row after reaching a new high Thursday. Quadruple witching -- when futures and options on indexes and individual stocks expire -- and the largest revision to the Global Industry Classification Standard since 1999 may be behind the slide and the higher-than-average volumes. More than 10 billion shares changed hands on U.S. exchanges Friday, 64 percent higher than the three-month average.
"The big news this week has been a good balance in emerging market stocks," Jurrien Timmer, director of global macro at Fidelity Investments, said by phone. "There's hope among market participants that the various trade tensions between the U.S. and China will ultimately be contained or won't be big enough to derail the global economic cycle. I think today the market is just hanging out after the various indexes have made new highs this week."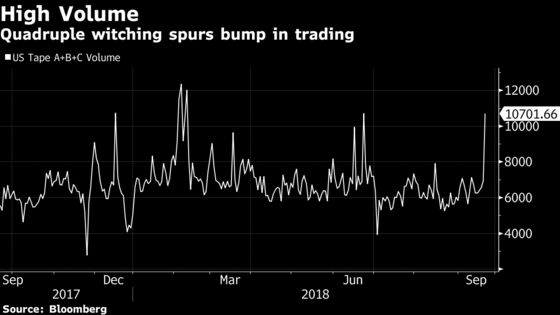 Earlier, the bullish mood that characterized most of the week buoyed global equity markets. Stocks rallied in Europe and Asia, and the MSCI All-Country World Index was poised for a seven-month high. Treasury yields held above 3 percent. The dollar and commodities gained.
The pound sank after Prime Minister Theresa May said the U.K. and European Union were "at an impasse" on Brexit. The euro slipped from a three-month high after data showed euro-area expansion edged lower in September. Italian bonds climbed as Finance Minister Giovanni Tria prepares a draft budget. In Japan, news that the BOJ is trimming purchases of debt maturing in more than 25 years helped boost 20-year and 30-year government bond yields.
Raw materials, stocks and emerging-market assets are all rallying as investors bet the global economic expansion is intact despite the latest data from Europe and the escalating trade war. The Bloomberg Commodity Index climbed to its highest level in more than a month, fueled by gains in crude oil and copper.
Emerging-market stocks and currencies extended a rally. Indian stocks bucked the developing-nation trend, however, as a plunge in banks set off an exodus from financial shares.
The big rearrangement of the GICS takes effect Sept. 24, with the creation of the communication services group. The new industry category will include three of the four FANG stocks -- Facebook, Alphabet and Netflix -- and could force investors who track indexes based on the classification to reshuffle their money.
Terminal users can read our Markets Live blog.
These are the main moves in markets:
The S&P 500 Index fell less than 0.05 percent.
The Stoxx Europe 600 Index gained 0.4 percent to a three-week high.
The U.K.'s FTSE 100 Index climbed 1.7 percent.
The MSCI Emerging Market Index rose 1.4 percent to a three-week high.
The MSCI All-Country World Index increased 0.3 percent.
The Bloomberg Dollar Spot Index advanced 0.2 percent, the biggest gain in a week.
The euro fell 0.2 percent to $1.1755.
The British pound sank 1.4 percent to $1.3085, the biggest drop in almost a year.
The Japanese yen declined 0.1 percent to 112.56 per dollar.
The yield on 10-year Treasuries gained less than one basis point to 3.06 percent, a four-month high.
Germany's 10-year yield decreased one basis point to 0.46 percent.
Britain's 10-year yield fell three basis points to 1.553 percent.
The Bloomberg Commodity Index increased 0.6 percent to the highest in six weeks.
West Texas Intermediate crude gained 0.7 percent to $70.82 a barrel.
Gold fell 0.7 percent to $1,199.01 an ounce.