U.S. Stocks Rally to End Volatile Day; Bonds Fall: Markets Wrap
(Bloomberg) -- U.S. stocks ended a tumultuous day sharply higher, with all major averages rising at least 1.4 percent as volatility continues to grip equity markets during earnings season. Treasuries fell and the dollar rose.
The S&P 500 Index twice erased gains that topped 1 percent before finally securing a rebound in the final hour of trading. All 11 main groups rose, with consumer and commodity shares pacing gains. The average flirted with a correction earlier Tuesday and is still down more than 8 percent in October, on track for its worst month of the bull market.
More than four shares rose for every one that fell in the S&P 500. Earnings drove some of the biggest moves. Take-Two Interactive and Under Armour surged on strong results. General Electric slumped to the lowest since 2009. Facebook edged higher in after-hours trading following its report. An ETF tracking homebuilders surged the most since April.
The Tuesday rally was welcomed by U.S. stock investors on edge after largely stellar earnings have failed to provide sustained relief to selling that began amid concern that rising rates will crimp economic growth. Attention will turn to major tech results including from Apple and Friday's jobs report. Trade also remains in focus, while the American midterm elections on Nov. 6 have started creeping into the calculus.
"The largest risks are the trade war and rising rates," said Michael O'Rourke, JonesTrading's chief market strategist. "When it comes to the midterm elections, most people are looking at them optimistically in the sense that usually after midterms the stock market rallies. The stock market is going to do what it's going to do whether you vote Republican or Democrat."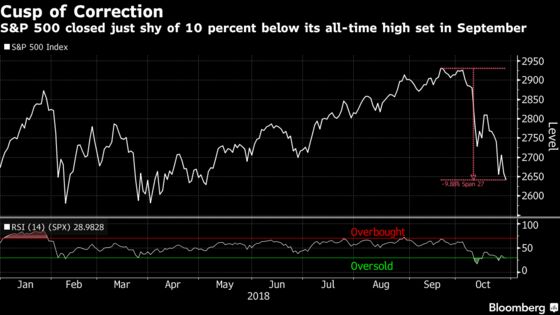 The Stoxx Europe 600 Index failed to sustain momentum from Asia -- it opened higher after good earnings for BP and Volkswagen, but corporate results were mixed overall before ending little changed. The euro edged down after underwhelming economic data.
The MSCI Asia Pacific Index halted a five-day losing streak after Trump held out the possibility of a trade deal with China, even as his administration prepares for a possible expansion of tariffs. China's stocks climbed as authorities said they'd encourage long-term funds to invest. The yuan was little changed after earlier hitting its weakest against the greenback in a decade.
Terminal users can read our Markets Live blog.
Here are some key events coming up this week:
This week's earnings season highlights include: Facebook, Komatsu, Macquarie, Apple, Alibaba, China Telecom, Fanuc, Airbus, Credit Suisse, Exxon Mobil, and Shell.
Monetary policy decisions are due in Japan and the U.K.
On Friday, the final U.S. jobs report before the November midterm elections may show hiring improved as payrolls rose about 190,000, and the unemployment rate held at a 48-year low of 3.7 percent, analysts forecast.
And these are the main moves in markets:
The S&P 500 Index rose 1.6 percent at 4 p.m. in New York.
The Nasdaq 100 rose 1.4 percent. The Dow Jones Industrial Average was higher by 1.8 percent.
The Stoxx Europe 600 Index rose 0.1 percent.
The MSCI Asia Pacific Index increased 0.5 percent, the first advance in more than a week and the largest climb in almost two weeks.
The MSCI Emerging Market Index declined 0.2 percent, reaching the lowest in almost 20 months on its sixth straight decline.
The Bloomberg Dollar Spot Index climbed 0.1 percent to the highest in more than 17 months.
The euro fell 0.1 percent to $1.1367, the weakest in almost 11 weeks.
The British pound dipped 0.5 percent to $1.2732.
The Japanese yen sank 0.4 percent to 112.79 per dollar.
The yield on 10-year Treasuries gained two basis points to 3.11 percent.
The two-year rate rose two basis points to 2.84 percent.
Germany's 10-year yield was unchanged at 0.37 percent.
West Texas Intermediate crude fell 0.5 percent to $66.75 a barrel.
Gold futures sank 0.1 percent to $1,226.30 an ounce.