U.S. Stocks Climb in Thin Volume as Americans Vote: Markets Wrap
(Bloomberg) -- Caution prevailed in financial markets Tuesday, with few standout moves as investors braced for any fallout from the American midterm elections, particularly congressional races seen as a referendum on the policies of President Donald Trump.
U.S. stocks rose, with materials companies the best performers. Shares came off their highs of the day in afternoon trading as the biggest technology names pared gains. Two-year Treasury yields rose to the highest since 2008.
The major U.S. averages pushed higher, but trading on the Dow Jones Industrial Average was about 18 percent below average.
Politics has most of the attention in the U.S. after a divisive campaign. First results are expected after 6 p.m. tonight.
A basket of stocks identified by Morgan Stanley as most likely to benefit under Trump's presidency have advanced 9.1 percent in six consecutive days of gains.
Investors have homed in on six key equity sectors with strong ties to the outcome, including health-care and financial firms.
Here's a sampling of strategists' views on what the election could bring
The Federal Reserve's policy decision Thursday looms, along with ongoing tension over trade and the state of the global economy.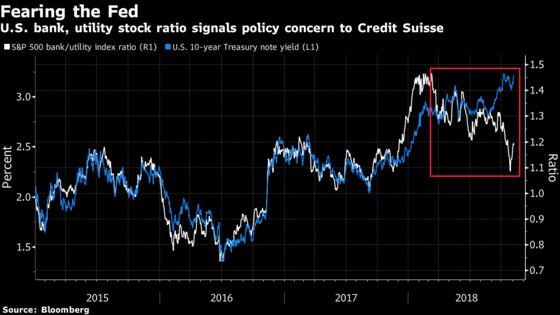 The 10-year Treasury yield rose two basis points to 3.22 percent; two-year yields climbed to 2.92 percent.
The S&P 500 Index added 0.6 percent, as did the Nasdaq Composite.
Bloomberg's dollar index slipped 0.1 percent after a torrid October run pushed it to the highest since May 2017.
Oil headed for an eight-month low as concerns over a supply crunch eased.
The Stoxx Europe 600 Index slid a second day.
Major stock benchmarks in Asia were mostly higher.
Emerging-market shares and currencies were steady.
Comments

"We should see activity pick up again after today," said Matt Maley, an equity strategist at Miller Tabak & Co. "The market rallied up a bit but pulled back, which is no surprise. No one wants to make a big bet in front of the elections."
More Moves


The euro rose 0.1 percent to $1.1417.
The Japanese yen slipped 0.2 percent to 113.46 per dollar.
The British pound added 0.4 percent to $1.3096.
Gold slipped 0.4 percent to $1,226.55 an ounce.
Oil fell 1.5 percent to $62.18 a barrel