Apple's Gain Lifts Nasdaq While Most Stocks Fall: Markets Wrap
(Bloomberg) -- Most stocks fell after China threw a wrench into U.S. companies' efforts to buy TikTok, while a jump in Apple Inc. powered the Nasdaq 100 to a record high.
The Dow Jones Industrial Average led losses after its components were revamped, with Microsoft Corp. and Walmart Inc. slumping on concern China could block a possible sale of the video app. Apple Inc.'s surge as the stock split 4-for-1 lifted the Nasdaq 100 past 12,000 for the first time. Two stocks fell for every one that rose on the S&P 500, but the index notched a fifth consecutive monthly advance.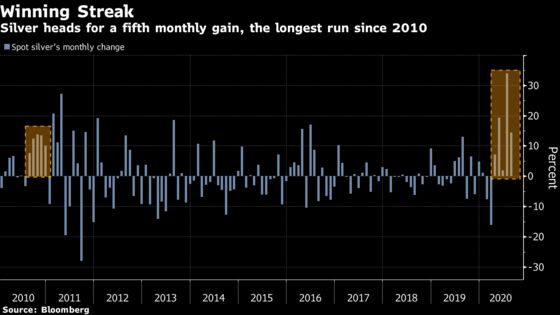 With the S&P 500 up 7% and 10-year Treasury yields almost 20 basis points higher this month, traders have taken comfort in the global economy's recovery from virus shutdowns and relentless gains in tech shares. Still, with U.S. infections ticking up again and India becoming the world's epicenter for new cases, the pandemic is far from beaten and investors will be scouring data this week for clues on the outlook.
"To add equity exposure here is doing so at a time where the market is priced for perfection," said Dave Donabedian, chief investment officer of CIBC Private Wealth Management. "To bet against the market here is a fool's errand because you're going against the Fed and a tide of liquidity."
The Dow Industrial's composition changed Monday after Apple's split, with the iPhone maker's weighting down to 2.9% from 12%. To maintain tech's relative sway in the blue-chip index, the overseers added Salesforce.com, ending Exxon Mobil's long run. Amgen and Honeywell also joined, replacing Pfizer and Raytheon.
Tesla Inc.'s 5-for-1 split also took effect, sending the shares up more than 10%.
Elsewhere, European shares slumped. Equities in Japan outperformed peers in Asia, bolstered by Berkshire Hathaway Inc.'s purchase of stakes in five major trading companies. The yen gave back some of Friday's gain, the biggest in five months, as Japan searched for a new prime minister.
Silver rose, outperforming gold.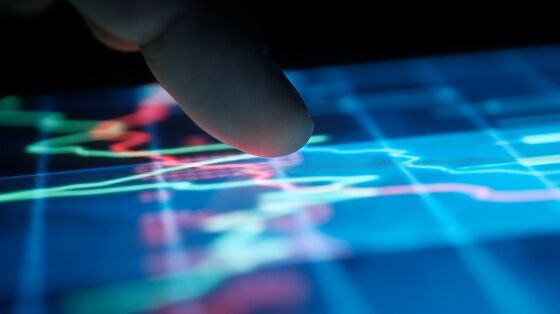 Here are some key events to watch this week:
Reserve Bank of Australia hands down its policy decision Tuesday.
ISM manufacturing data is due Tuesday in the U.S, Australia GDP is due Wednesday.
U.S. jobless claims for the week ended Aug. 29 are due Thursday.
U.S. jobs report Friday is forecast to show payrolls continued to rebound in August from virus lows.
Here are the main market moves:
The S&P 500 Index fell 0.2% as of 4 p.m. New York time.
The Stoxx Europe 600 Index fell 0.6%.
Japan's Topix index gained 0.8%.
The Bloomberg Dollar Spot Index fell less than 0.1%.
The euro rose 0.2% to $1.1932.
The Japanese yen weakened 0.5% to 105.90 per dollar.
The yield on 10-year Treasuries dipped one basis point to 0.71%.
Italy's 10-year yield rose five basis points to 1.09%.
Germany's 10-year yield increased one basis point to -0.40%.
West Texas Intermediate crude fell 0.4% to $42.81 a barrel.
Gold rose 0.2% to $1,969.53 an ounce.
Silver strengthened 2.6% to $28.21 per ounce.