Stocks Gain Most Since April as Tech Powers Rally: Markets Wrap
(Bloomberg) -- Stocks rose the most in six months Friday as technology shares, which led the longest rout in U.S. stocks in almost two years, bounced back to power major indexes higher. Treasuries fell, and the dollar rose with oil.
The S&P 500 Index gained 1.4 percent in the final hour of a wild up-and-down session, with trading 30 percent above average, to post its best performance since April 10. The benchmark had all but erased a morning rally that reached 1.7 percent, only to bounce higher after JPMorgan analysts said that selling forced by computer-driven strategies had likely run its course. Volatility ruled, though, with the index making another run at wiping out the gain before resuming its climb.
Sailing in Rough Waters: Bloomberg Reporters Talk Markets
Technology buoyed all the major averages, with the Nasdaq 100 Index rising 2.8 percent just two days after its worst rout since 2011. Netflix Inc. rallied 6 percent amid an "opportunistic upgrade" from analysts at Citigroup Inc. Activision Blizzard Inc. drove gains in gaming shares after releasing a new version of "Call of Duty." The 10-year Treasury yield rose for the first time in three days, reaching 3.16 percent, though down 10 basis points for recent highs. That weighed on banks even after mostly positive earnings reports from JPMorgan Chase & Co., Citigroup Inc. and Wells Fargo & Co. The group was down almost 5.5 percent for the week.
The reasons for Friday's rally were as varied as for the weeklong pounding. Trade data from China helped ease concerns about global growth, while signs emerged of relaxing tensions with the U.S. amid a planned meeting between the countries in November and the Treasury Department's determination that China isn't manipulating its currency. Relief that bank earnings weren't bad cooled anxiety that corporate profits might not live up to lofty expectations amid higher costs from the Trump tariffs.
"Solid bank earnings, Chinese trade data and excessively oversold conditions is charging the equity rebound," Ben Emons, chief economist at Intellectus Partners LLC, wrote in an emailed note. "All of these set in motion what you could dub as a 'stock reflation' trade after several days of brutal moves."
The rally, which came after two days of market tumult, was global, with the MSCI All-Country World Index adding more than 1 percent. The MSCI Asia Pacific Index climbed from the lowest level since May 2017. European shares, however, slid into the close, with the Stoxx 600 Index turning negative to erase a gain that had reached almost 1 percent and cap its worst week since February.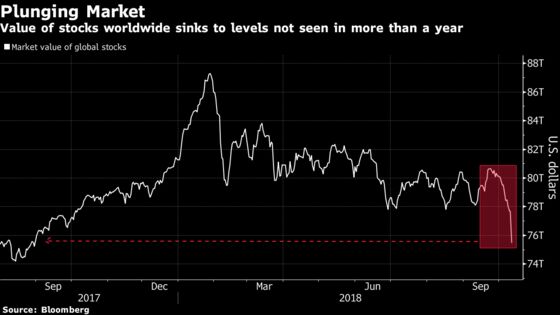 Emerging-market stocks headed for the biggest gain in more than two years as risk appetite improved, and most developing-nation currencies advanced against the dollar. Turkey's lira retreated from earlier gains after it was reported that a Turkish court set free U.S. Pastor Andrew Brunson after two years in jail, removing a source of tension between the countries.
Despite the strong one-day performance, the S&P 500, Nasdaq 100 and Dow Jones Industrial Average all had their worst week since March. With investors debating whether this correction has created immediate buying opportunities, earnings remain key as third-quarter reports from U.S. companies will show whether the Trump Administration's tax breaks are still boosting corporate profits.
"We expect further volatility and possible additional down moves," though "the bear checklist is not yet flashing red," Pascal Blanque, chief investment office at Amundi SA, said in a client note. "The focus will be on the U.S. earnings season, so any news will be carefully assessed by the market."
West Texas crude recovered but remained on track for the biggest weekly drop since May. The International Energy Agency cut forecasts for demand this year, but said dwindling supply will keep prices high. Gold slipped, but copper led a gauge of industrial metals higher.
Terminal readers can follow our Markets Live blog.
These are the main moves in markets:
The S&P 500 rose 1.4 percent to 2,767.13, while the Nasdaq 100 jumped 2.8 percent.
The Stoxx Europe 600 Index fell 0.3 percent, retreating from an increase of 1 percent.
The MSCI All-Country World Index gained 1.1 percent.
The MSCI Emerging Market Index surged 2.6 percent, the first advance in more than a week and the largest jump since March 2016.
The Bloomberg Dollar Spot Index climbed 0.1 percent.
The euro declined 0.3 percent to $1.1558.
The British pound fell 0.6 percent to $1.3155
The Japanese yen was little changed at 112.21 per dollar.
The yield on 10-year Treasuries rose one basis point to 3.16 percent.
Germany's 10-year yield slid two basis point to 0.497 percent.
Britain's 10-year yield fell four basis points to 1.633 percent.
The Bloomberg Commodities Index rose 0.4 percent after two days of losses.
West Texas Intermediate crude added 0.8 percent to $71.56 a barrel.
Gold declined 0.5 percent to $1,218.05 an ounce.