Stocks Close Lower; Pound Gains on May Promise: Markets Wrap
(Bloomberg) -- Want the lowdown on European markets? In your inbox before the open, every day. Sign up here.
U.S. stocks pushed lower in the final hour of trading to close in the red as investors struggled to put an optimistic spin on Federal Reserve Chairman Jerome Powell's testimony before Congress. The pound rallied as U.K. Prime Minister Theresa May promised a vote to delay Brexit if her proposed deal fails.
The S&P 500 whipsawed traders as it swung between gains and losses, with increases capped at the round-number milestone of 2,800, as Powell discussed the path for monetary policy and the health of the economy. The index was lower as the banker warned that growth looked uneven, though regained some losses on speculation the Fed will remain on hold. Shares fell in Asia as the rush of optimism over U.S.-China trade talks from earlier in the week faded.
The S&P 500 is "consolidating underneath that 2,800 level, almost catching its breath before the next move happens,'' said Ryan Detrick, senior market strategist at LPL Financial LLC. "The easy part of this bounce is over, it's the next 10 percent that's going to be harder."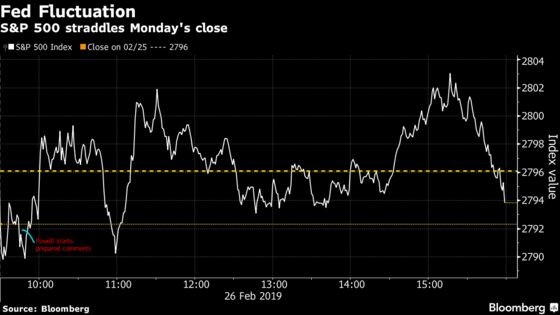 "You've had a pretty significant rally, I'm actually pretty impressed with the rally we've had since late December," Randy Swan, founder of Swan Global Investments, said in an interview at Bloomberg's New York headquarters. "We are kind of in a holding pattern since people are waiting for economic news, good or bad, to try to figure out what's going to happen next."
Powell said a healthy economy has faced some "crosscurrents and conflicting signals" that officials in January decided warranted taking a patient approach to rate changes. With inflation pressures "muted," the Fed in its decision last month to keep rates unchanged "determined that the cumulative effects'' of its actions and global and financial developments, "along with ongoing government policy uncertainty, warranted taking a patient approach with regard to future policy changes,'' Powell said.
The pound rallied to the highest level versus the euro since 2017 as U.K. Prime Minister Theresa May addressed Parliament, confirming there was a path to delaying Brexit. The opposition Labour party also changed tack, coming out in favor of a second vote on the divorce.
Elsewhere, WTI crude finished higher after tumbling the most in four weeks on Monday following criticism from President Donald Trump that prices are too high. Iron ore retreated with Barclays warning it may erase all its dam-disaster gains this year.
Here are some key events coming up:
Powell delivers the second half of his semiannual testimony on monetary policy and the state of the economy to a House committee Wednesday.
President Donald Trump and North Korea leader Kim Jong Un meet for a second summit on Wednesday.
Thursday brings fourth quarter U.S. GDP.
These are the main moves in markets:
The S&P 500 Index fell less than 0.1 percent as of 4:05 p.m. New York time, while the Nasdaq Composite Index slumped less than 0.1 percent and the Dow Jones Industrial Average declined 0.1 percent.
The Stoxx Europe 600 rose 0.4 percent, the third consecutive increase.
The MSCI Emerging Market Index dropped 0.1 percent, the first decline in seven sessions.
The MSCI Asia Pacific Index fell 0.2 percent.
The Bloomberg Dollar Spot Index fell 0.3 percent, the third consecutive decline.
The euro gained 0.3 percent to $1.1392.
The British pound strengthened 1.3 percent to $1.3261.
The MSCI Emerging Markets Currency Index was little changed.
The yield on 10-year Treasuries dropped three basis points to 2.64 percent.
Germany's 10-year yield climbed one basis point to 0.12 percent.
Britain's 10-year yield increased three basis points to 1.21 percent.
West Texas Intermediate rose 0.3 percent to $55.65 a barrel.
Gold rose 0.1 percent to $1,329 an ounce.
The Bloomberg Commodity Index declined 0.1 percent, a second straight loss.