Stocks Mixed as Crude Plunges the Most in a Year: Markets Wrap
(Bloomberg) -- U.S. stocks bounced between gains and losses as plummeting oil prices rocked energy shares and investors weighed what U.S. President Donald Trump called North Korea's "warm and productive" response to his decision to cancel a summit with the nation's leader Kim Jong-Un. The dollar rose with Treasuries, while gold sank.
The S&P 500 Index and Dow Jones Industrial Average fell on lighter than normal volume heading into the long Memorial Day holiday weekend, but the Nasdaq benchmarks rose on strength in semiconductor stocks. The S&P 500 Energy Index plunged more than 2.5 percent as oil posted its biggest decline in roughly a year after a Saudi minister said that petroleum supply would likely rise in the second half.
"The market itself really isn't doing a whole lot, but crude oil sure is," said Joe "JJ" Kinahan, chief market strategist at TD Ameritrade. "Crude oil is down pretty good, and I think that the fact that you're seeing the S&P down and you're seeing the Dow down, you can point to crude oil and say that's just weighting heavily on those indexes right now."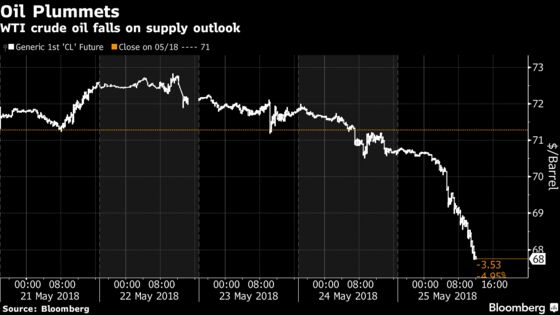 Investors would also be forgiven if they felt rattled by recent geopolitical developments. On Thursday, stocks tumbled after President Donald Trump scrapped his planned meeting with Kim Jong-Un because of what he called the "tremendous anger and open hostility" from Pyongyang. But then on Friday, the U.S. president pivoted and said the meeting could happen next month.
"The markets reacted negatively when Trump pulled out," said Jeffrey Saut, chief investment strategist at Raymond James. "And then we got the little soothing news over night, so the market's just adrift here until we get into next week when the players get back."
Stoxx Europe 600 Index pared gains, with Spain's benchmark gauge underperforming as the prospect of a snap election in that country increased. Core European bonds advanced, while Italy led peripheral debt lower as worries mounted over the leadership there and in Spain.
Meanwhile, other global risks remain on the minds of investors. Spain's biggest opposition party is ready to push for a no-confidence motion against Prime Minister Mariano Rajoy. And trade tensions surrounding the U.S. and China haven't abated.
Terminal users can read more in Bloomberg's Markets Live blog.
These are the main moves in markets:
The S&P 500 fell 0.2 percent to 2,721.33, while the Nasdaq 100 Index added 0.2 percent.
The Stoxx Europe 600 Index rose 0.1 percent.
The U.K.'s FTSE 100 Index added 0.2 percent.
The MSCI Emerging Market Index increased 0.1 percent.
The MSCI Asia Pacific Index declined 0.2 percent.
The Bloomberg Dollar Spot Index rose 0.3 percent.
The euro dropped 0.5 percent to $1.166.
The British pound fell 0.5 percent to $1.3313.
The Japanese yen slipped 0.2 percent to 109.49 per dollar.
The yield on 10-year Treasuries decreased five basis points to 2.9313 percent.
Germany's 10-year yield dropped seven basis points to 0.406 percent, the lowest since December.
Britain's 10-year yield plunged eight basis points to 1.322 percent, the lowest in more than four months.
Italy's 10-year yield rose six basis points to 2.461 percent, the highest since October 2014.
West Texas Intermediate crude sank 4.4 percent to $67.59 a barrel, the biggest drop since June 2017.
Gold fell 0.3 percent to $1,300.28 an ounce.