Stocks Rise in Volatile Trading; Oil Snaps Slide: Markets Wrap
(Bloomberg) -- U.S. stocks climbed the most in more than a week as investors weighed the prospects for additional stimulus against the spike in American virus cases. Crude oil snapped a two-day slide and the dollar strengthened.
The S&P 500 jumped in the last hour of trading after fluctuating for most of the session to finish up 1.1%. The index is clinging to a monthly gain after one of the highest-ever increases in U.S. cases prompted Texas and Florida to halt the next phases of the reopening of their economies. Banks surging 2.7% after regulators eased rules that will free up capital. Investors also grappled with a mixed batch of economic data, after initial jobless claims topped estimates at almost 1.5 million.
"The market is trying to digest what the timeline is, and also measuring monetary stimulus and future fiscal stimulus as well," said Chad Morganlander, senior money manager at Washington Crossing Advisors. "There are a lot of unknowns but yet, we have to believe that the monetary backdrop as well as fiscal backdrop will support the market, so we're a little bit more optimistic over the next 18-24 months."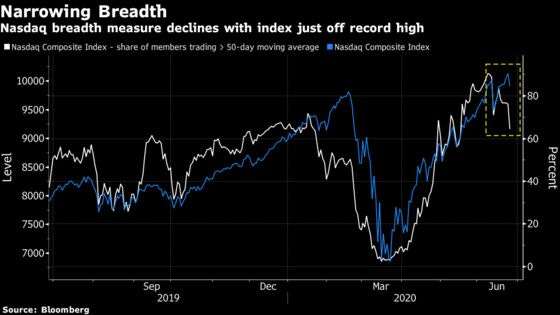 In Europe, stocks swung from a loss to close higher, with Deutsche Lufthansa AG rallying as its biggest shareholder backed a government rescue package. Shares in German fintech Wirecard AG collapsed after it filed for insolvency. Core European bonds gained.
Worries over lockdowns being reimposed and economies re-opening more slowly has hurt sentiment, as investors weigh reports of new daily records for infections. Meanwhile, health leaders called on the U.K. to prepare for a possible second wave, and Australia recorded its largest spike in cases since April.
"The market really got the shivers over the prospect of a big increase in Covid and maybe starting to see places that were opening up have to close up," Margie Patel, portfolio manager at Wells Fargo Asset Management, said on Bloomberg TV. "We've had such a great run from the end of March it's only inevitable that we should get at least a little step back."
Elsewhere, stocks in Asia fell the most in almost two weeks. China and Hong Kong were shut for holidays. West Texas crude oil rose, while gold reversed an earlier gain.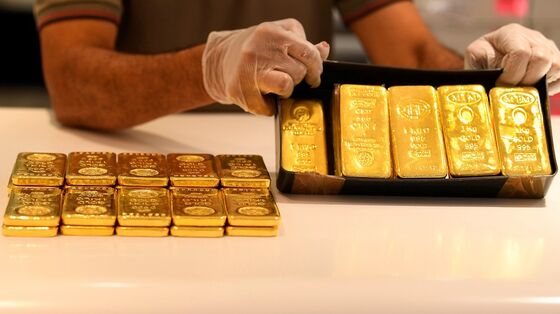 Here are some key events coming up:
A rebalance of Russell indexes is due on Friday.
These are some of the main moves in markets:
Stocks
The S&P 500 Index advanced 1.1% to 3,083.76 as of 4:04 p.m. New York time, the largest gain in more than a week.
The Dow Jones Industrial Average advanced 1.2% to 25,745.60, the biggest gain in more than a week.
The Nasdaq Composite Index gained 1.1% to 10,017.
Currencies
The Bloomberg Dollar Spot Index advanced 0.1% to 1,218.48.
The euro decreased 0.2% to $1.1226.
The Japanese yen depreciated 0.1% to 107.12 per dollar, the weakest in more than a week.
Bonds
The yield on two-year Treasuries fell less than one basis point to 0.18%, the lowest in two weeks.
The yield on 10-year Treasuries gained less than one basis point to 0.68%.
Britain's 10-year yield decreased four basis points to 0.154%, the lowest on record.
Commodities
West Texas Intermediate crude advanced 2.7% to $39.05 a barrel, the biggest gain in more than a week.
Gold strengthened 0.2% to $1,763.65 an ounce.