Nasdaq Climbs to Highest Since July; Oil Sinks: Markets Wrap
Stocks rallied, with the Nasdaq Composite Index rising to the highest level since July, as the rotation from momentum to value shares that began at the start of the week slowed. Crude oil plunged after President Donald Trump indicated that sanctions on Iran could be eased.
The Nasdaq rose for the first time in four days as Apple's cheaper priced iPhone gave analysts reason to cheer, while the Dow Jones Industrial Average gained for a sixth day and the S&P 500 closed above 3,000 for the first time in six weeks. Trump earlier urged the Federal Reserve to cut interest rates to "zero, or less," in a tweet, while China moved to lessen the trade war's repercussions by announcing a range of U.S. goods to be exempted from 25% extra tariffs put in place last year.
"Get a trade deal, get a dovish Fed, decent valuations, lower interest rates, and all of a sudden, you have the tinder potentially for markets to move higher," Jeff Mortimer, director of investment strategy for BNY Mellon Wealth Management, said in an interview at Bloomberg's New York headquarters.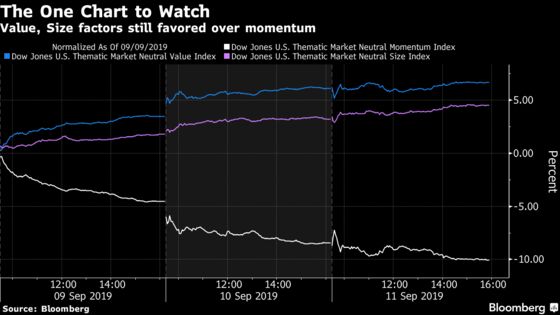 Crude oil futures fell as much as 2.8% in London. Trump is preparing to meet with Iranian President Hassan Rouhani later this month, according to people familiar with the matter. Such talks would be unprecedented for an administration that made isolating the Islamic Republic a cornerstone policy. The dollar strengthened, while benchmark Treasury yields lingered near one-month highs.
Equities are rebounding in September on hopes for fresh monetary stimulus from the European Central Bank on Thursday and the Fed next week, while market-supportive measures by China helped lift sentiment. Strong monetary easing is not a given, though, with some investors dialing back their expectations of accommodation and bond traders pulling back from the more bullish sentiment of August.
These are the main moves in markets:
Stocks
The S&P 500 Index increased 0.4% to 3,000.90 as of 4:04 p.m. New York time, the highest in almost six weeks.
The Dow Jones Industrial Average gained 0.5% to 27,136.91, reaching the highest in almost six weeks on its sixth consecutive advance.
The Nasdaq Composite Index rose 0.7% to 8,169.68, the highest in almost six weeks.
Currencies
The Bloomberg Dollar Spot Index rose 0.2% to 1,210.84, the biggest advance in a week.
Bonds
The yield on two-year Treasuries declined less than one basis point to 1.68%, the first retreat in a week.
The yield on 10-year Treasuries increased less than one basis point to 1.74%, reaching the highest in a month on its sixth straight advance.
Germany's 10-year yield fell two basis points to -0.56%.
Commodities
Gold strengthened 0.8% to $1,496.08 an ounce, the first advance in a week.
West Texas Intermediate crude declined 2.4% to $56.03 a barrel, the largest drop in more than a week.